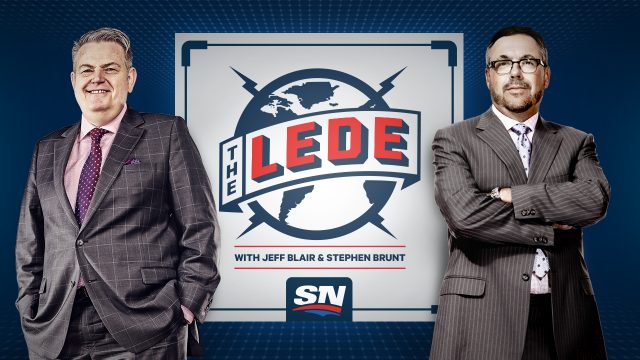 Jeff and Stephen explore hooliganism ahead of the 2018 World Cup and retrace the origins of fan violence in soccer.
Sam Borden of ESPN travelled to Russia for his magazine story on a new school of hooligan culture that sometimes doesn't involve soccer, but might involve an architect or a graphic designer.
Sam joins The Lede from Russia to discuss these new MMA-style hooligans, their distaste for the Russian government and why the violence at Euro 2016 in Marseille escalated as it did.
The Lede
Each week, Jeff Blair and Stephen Brunt tackle the most impactful stories in the world of sports and their intersection with popular culture. Come for the sports; stay for the storytelling and cigars.
Apple Podcasts
| Podcatchers
| Listen Now
OPEN – Jeff and Stephen wonder how Russia will handle the hooligans during the World Cup.
2:05 – Stephen shares a story from France '98 when England was playing in Lens and how the police handled violence 20 years ago.
5:35 – Jeff and Stephen retrace the origins hooligan culture in England from literature to television shows to real matches.
7:00 – Margaret Thatcher left her mark on soccer culture in England when she proposed to put an end to soccer hooliganism.
8:15 – Stephen shares a story from his time covering the World Cup in Toulouse, France (1998).
9:15 – Euro 2000, England vs. Germany: Stephen witnessed the match and the pre-match brawl.
10:35 – 2002 World Cup in Japan/South Korea: Stephen remembers the TV coverage around the tournament and how the Japanese fans and officers were overly prepared for the hooligans.
12:30 – There are many clubs that have ultra-nationalist supports that are racist and violent.
2018 World Cup coverage on Sportsnet
The FIFA World Cup in Russia runs from June 14 to July 15, and Sportsnet.ca will have in-depth daily coverage.
Daily news & feature stories
| Match schedule
| Group standings
| Team profiles
| History of the World Cup
| Scoreboard
15:35 – Sam Borden of ESPN joins the show to discuss his story on a new breed of soccer hooligans.
18:30 – How do these groups connect to soccer if they train to fight?
19:20 – What would have to happen to get these hooligans out of the forest and into the streets? A poor showing from the Russian national team?
20:35 – What happened in Marseille in 2016? How did that get so out of hand? Why did the Russians attack fans?
23:35 – Who are these guys and where is the common ground is culturally and socially?
25:25 – When it comes to a type of government, who do these guys support? Would they consider themselves Nazis?
"They think that Putin is too soft. They think that he cares too much about the external image and isn't focused enough on what's going on in Russia."
32:23 – Will the World Cup be well attended?
34:20 – The bid for the 2026 World Cup bid is this week. The sport is growing …read more
Source:: Sportsnet
(Visited 7 times, 1 visits today)