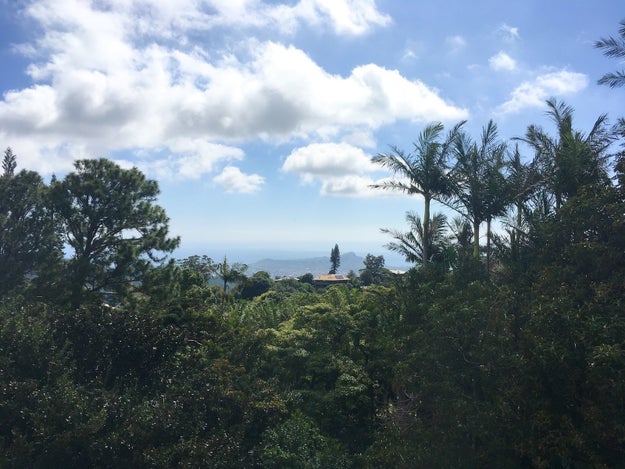 The view from the reporter's home.
Michelle Broder Van Dyke/BuzzFeed News
HONOLULU — On Saturday morning, I was basking in my usual routine, waking up with my yawning dog, walking upstairs to receive a macchiato made by my husband.
The caffeine began to hit me. I was reclining on the couch, listening to the birds chirping outside the windows of our secluded jungle home and reading the news on my phone — when, suddenly, it started vibrating and I saw this all-caps message.
Michelle Broder Van Dyke/BuzzFeed News
My heart started racing. Was this real?
I re-read it.
"THIS IS NOT A DRILL."
I jumped off the couch and ran downstairs to find my husband. He was in the bathroom. I screamed at him through the wall: "Did you get the message?!"
"Give me one minute," he responded much too calmly. He had clearly not received the message.
Maybe it wasn't real? I just wanted him to come out and say as much. He needed another minute. A missile was going to hit us and my husband would be on the toilet. Great.
I ran back upstairs and screamed to my mom, whom we also live with. "Did you get the message?"
"What message?" she yelled back.
"Look at your phone!"
She had received the message.
"Is this real?" we asked each other.
"Call Eric!" I said, referring to my brother, who lives in the Kapahulu neighborhood in Honolulu. (I have another brother, but he is traveling on the mainland. I felt slight relief at this thought.)
I didn't know what to do, so I took a screenshot of the message and decided to tweet it out.
I tried to think of what to write with my tweet. "OMG" I typed, but then immediately tried to think of something better to write. What if I die and my last tweet is just "OMG"? I really couldn't think of anything better to say. It was all I could feel. I hit send.
Caleb Jones / AP
My husband came rushing upstairs. He had now received the message, but for some reason his phone was a few minutes behind ours.
"We're supposed to shelter in place," I said. "So let's stay here and close all the windows."
We live in my childhood home, which suddenly didn't really feel safe. As a reporter, I have been covering the state warning system amid the recent rising tensions with North Korea, and I knew it was best to shelter in a concrete building. Our home is 99-years-old and made out of wood.
Still, we live at the top of Mount Tantalus, which is above Honolulu, so it felt remote and seemed like we had a better chance of being faraway from any likely target zone — Pearl Harbor, perhaps? Or another military base?
As I looked through a big window in the living room, I could see most of Honolulu below. On the edge of the city is the lush Diamond Head extinct volcanic crater. Beneath that lies rows and rows of homes that seem to melt …read more
Source:: BuzzFeed – US News
(Visited 2 times, 1 visits today)