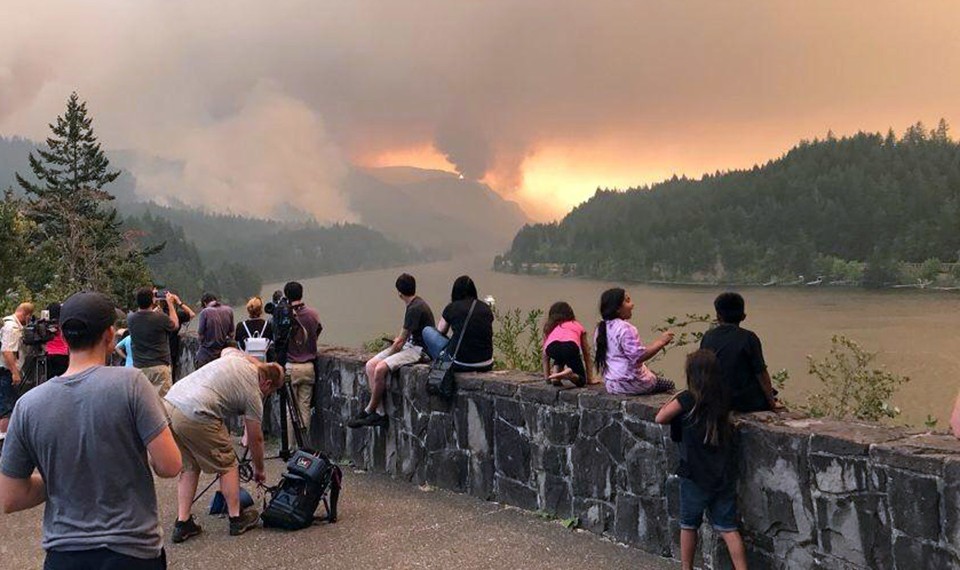 I never thought we were going to die. Even when the canyon air filled with smoke, when the flames came rushing up, when darkness fell and the sky glowed red both behind and ahead of us. So okay, it was a little scary. But we were just a short drive from Portland, Oregon, on a well-traveled trail my family had hiked a dozen times in the last 10 years. No one dies in a forest fire when they're that close to home. We weren't outdoorsy enough to die in a forest anywhere. Or so it seemed to me.
On the West Coast, the 2017 onslaught of forest fires has been widespread and relentless—a char stretching from South Cariboo, British Columbia, last summer to the Caravaggio exhibit in the Getty Center just above west Los Angeles Thursday. Blazes are striking with growing regularity in the region, sparked in part by drought and record-breaking heat. Seven of California's 10 largest modern wildfires have come in past 14 years.
The news coverage of these fires plays like a disaster movie. Forested hills wrapped in a devil's fiery cloak. Well-tended homes reduced to scorched concrete and melted bikes. By this point, Americans are used to watching with a mix of horror and curiosity. But as the frequency of wildfires increases, it's also more likely for people on the West Coast to find themselves in their paths—and not always because they're away from home.
My experience began on a sunny Saturday afternoon in early September. Labor Day was the first time my wife and I had all three of our busy, nearly grown kids with us since Christmas. Figuring we'd spend the day together romping around Oregon's natural playground, we drove 40 miles east to the Eagle Creek Trail, a path that follows a waterfall-clotted river on an uphill climb toward the richly forested Bull Run watershed.
When we arrived just after noon, the parking lot was so crowded that we had to double back and bootleg a spot on the side of the road. Setting out through a thicket of multi-generational tourist families, taut hikers, cooler-toting beer dudes, toddler-chasing couples, and dozens of other Oregon types, we continued for three breezy miles, had a shady lunch at the High Bridge, and after an hour or so headed to the Punch Bowl Falls swimming area for a cooling dip. We were back on the trail at 4 p.m. for the gentle two-mile stroll down to the car. A sweet end to a lovely afternoon, right until one of my sons, Teddy, came sprinting back from walking a few hundred feet ahead of us.
The trail was on fire, he shouted. In fact, the entire hillside was ablaze.
Thinking dad thoughts, I made a few steps forward to check it out, but Teddy put his hand up to my chest. You do not want to get closer.
Twenty minutes earlier, a few feckless teenagers had tossed a smoke bomb from the trail, and hell had been unleashed. Our …read more
Source:: The Atlantic – Best of
(Visited 10 times, 1 visits today)