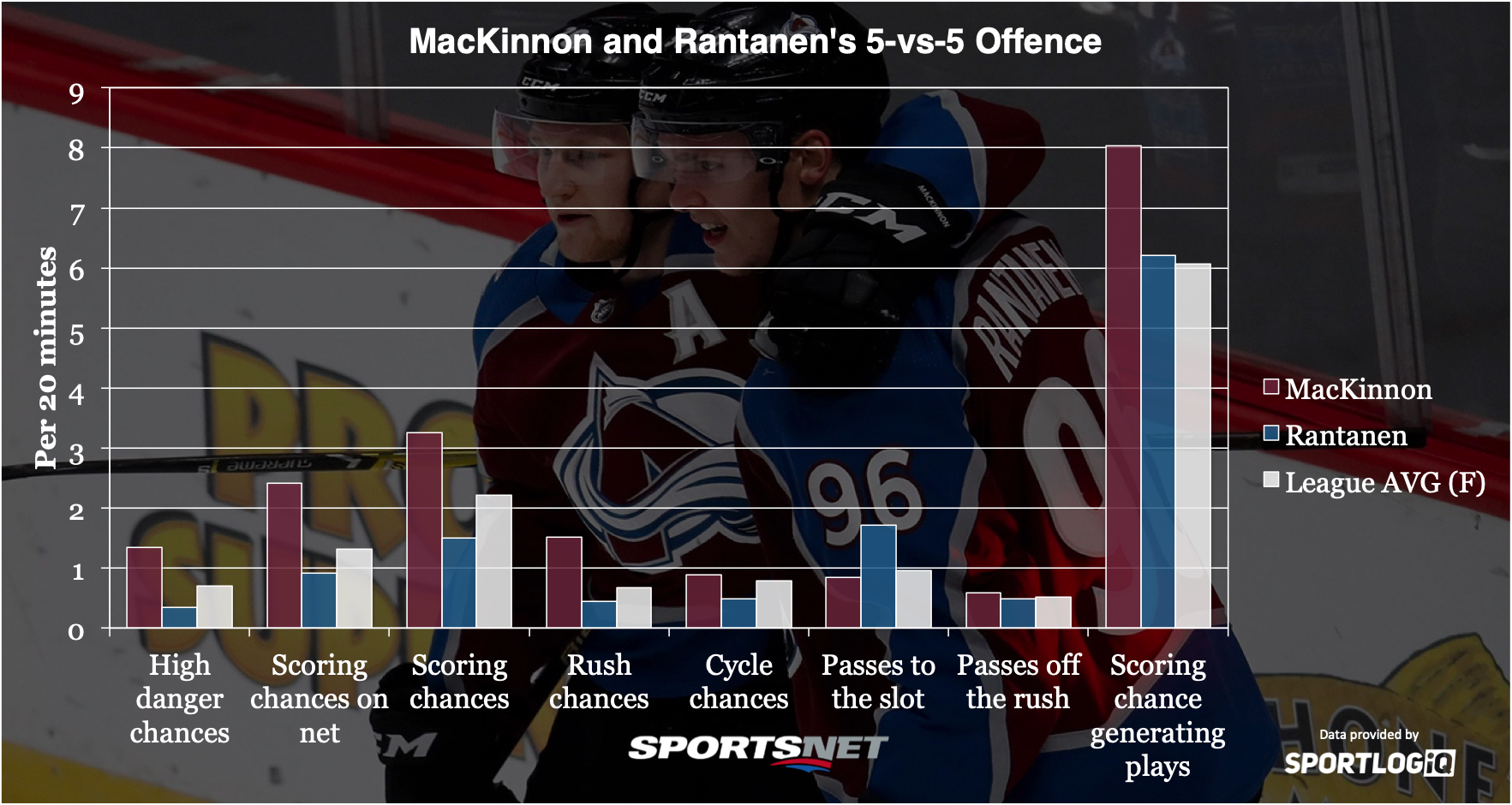 The Colorado Avalanche have one of the league's top lines, but how much of their success is driven by the league's top scorer, and how much of it has to do with superstar Nathan MacKinnon's play driving? Are the Philadelphia Flyers the most obvious team that is just a goalie away from being a really tough team? We dive into those questions, and more, in this week's column.
SPOTLIGHT PERFORMANCE
Last season the Colorado Avalanche were a bit of a Cinderella team that made an unexpected trip to the playoffs and met the Presidents' Trophy-winning Nashville Predators. Everyone expected that series to be over quickly and cleanly in Nashville's favour, including me.
But the combination of Colorado being a very strong attacking team off the rush and Nashville being relatively weak at defending off the rush made things a little dicey for the Predators, who were outplayed for much of the round and forced into a longer series than expected.
Nashville still won, but Colorado succeeded in raising eyebrows around the league as Nathan MacKinnon was able to dominate his matchup against P.K. Subban and Mattias Ekholm. In watching the Avalanche you could see they had a chance to be more than just a one-time deal, even if the numbers weren't great last season. This was a team on the rise.
Lo and behold the Avalanche are getting about 56 per cent of the high danger chances, 54 per cent of the scoring chances on net, and 52 per cent of the passes to the slot all at 5-on-5. Suddenly last year's pretenders with a bright future are right in the middle of it.
A big part of the Avs' success this season is that top line of Nathan MacKinnon between Gabe Landeskog and Mikko Rantanen. And though Rantanen struggled to score in the playoffs last year, he's building on his 84-point season in 2017-18 to lead the NHL in scoring so far this season with a whopping 47 points in 29 games.
Right behind Rantanen is MacKinnon at 44 points, making them the highest-scoring duo in the NHL by 10 points ahead of Brayden Point and Nikita Kucherov in Tampa Bay.
The Avalanche as a team look excellent, but how sustainable is it for Rantanen and MacKinnon to be on pace for 135 and 126 points, respectively?
MacKinnon and Rantanen are great on the power play, but looking at just 5-on-5 gives us a bigger sample of controllable minutes to deal with, so we'll stick to that for now.
Through that lens, it's clear MacKinnon is the shooter and Rantanen is the playmaker, but it's far more pronounced than I was expecting, with Rantanen showing as a far below average scoring chance producer at even strength.
I was also surprised to see that it was more MacKinnon who makes plays off the rush than Rantanen, both as a shooter and a passer, which makes some sense since he's the primary puck carrier on the …read more
Source:: Sportsnet
(Visited 2 times, 1 visits today)