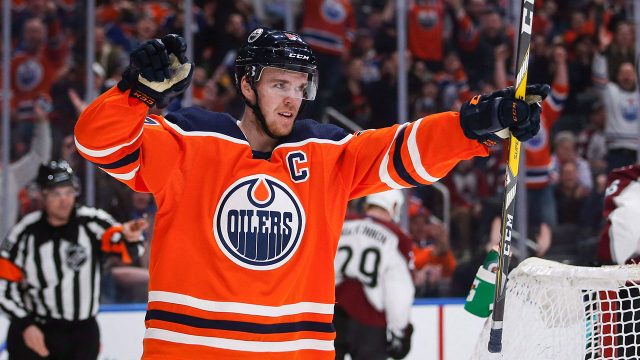 Uh oh.
For the first time this season the 2017-18 Oilers showed up, an Edmonton lineup laden with players who made little difference in Thursday's fixture. Edmonton was outshot 19-4 in the second period and managed just a single goal against the 31st ranked team in the National Hockey League.
Passengers? Oh, there were plenty of those. Now the Oilers have lost three straight, and watched a nice opening 12 games turn into an 8-7-1 record.
You can live with that mark, but this ship had better turn around soon, or we'll be right back where we were 12 months ago in Edmonton. Sorry if we sound a little paranoid, but disinterested, disengaged efforts like this were commonplace last season.
In a game that could have meant a .500 road trip, against the last place team in the NHL, it's worrisome to see as poor an effort as this.
Here are some takeaways from a 4-1 loss to the Panthers.
Stream Oilers hockey on Sportsnet NOW
Sportsnet NOW gives you access to over 500 NHL games this season, blackout-free, including Hockey Night in Canada, Rogers Hometown Hockey, Scotiabank Wednesday Night Hockey, the entire 2019 Stanley Cup Playoffs and more.
CHOOSE PLAN
Pumping His Tires
Give Roberto Luongo the first star in this one. Edmonton's Leon Draisaitl and Ty Rattie each had five-bell chances in the opening five minutes, and both were thwarted on fabulous saves by Luongo.
His slow-starting Panthers were given some rope by their goalie, and made the most of it. They went into the dressing room with a scoreless draw after 20 minutes, thanks to Luongo, and emerged to dominate the Oilers in Period 2 to take a 2-0 lead that Florida would never relinquish in a 4-1 win.
The eldest netminder in today's goalie union stopped 26 of 27 pucks Thursday, and at age 39 looked 15 years younger against the Oil.
if ( "1" == true && 'undefined' !== typeof window.getIndexAds ) {
var so = {preroll:{1:{1:{siteID:191888},2:{siteID:191889}}}};
adServerUrl = window.getIndexAds( 'http://pubads.g.doubleclick.net/gampad/ads?sz=640×360&cust_params=domain%3Dsportsnet.ca&iu=%2F7326%2Fen.sportsnet.web%2FVideo&ciu_szs=300×250&impl=s&gdfp_req=1&env=vp&output=vast&unviewed_position_start=1&ad_rule=1&vid=5859583223001&cmsid=384', so, permalink);
} else {
adServerUrl = "http://pubads.g.doubleclick.net/gampad/ads?sz=640×360&cust_params=domain%3Dsportsnet.ca&iu=%2F7326%2Fen.sportsnet.web%2FVideo&ciu_szs=300×250&impl=s&gdfp_req=1&env=vp&output=vast&unviewed_position_start=1&ad_rule=1&vid=5859583223001&cmsid=384";
}
$el.after( unescape("%3Cscript src="" + (document.location.protocol == "https:" ? "https://sb" : "http://b") + ".scorecardresearch.com/beacon.js" %3E%3C/script%3E") );
$( document ).one( 'ready', function() {
$( "#video_container-491761" ).SNPlayer( {
bc_account_id: "1704050871",
bc_player_id: "rkedLxwfab",
…read more
Source:: Sportsnet
(Visited 3 times, 1 visits today)