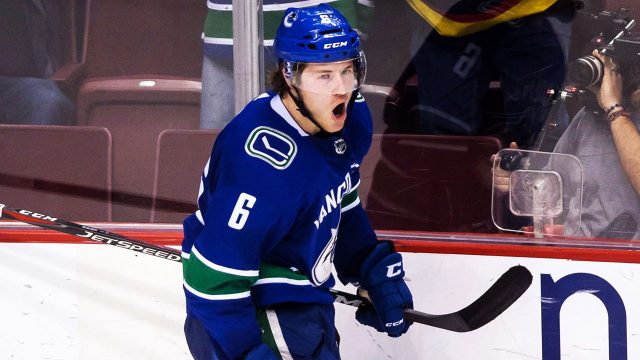 The last time the Vancouver Canucks pumped in eight goals in one National Hockey League game, their scorers included Steve Bernier, Mathieu Schneider and Tanner Glass. Henrik Sedin had a hat trick and Ryan Johnson had three assists. So it had been a while.
The Canucks beat the Boston Bruins 8-5 on Thursday, reaching that offensive high-water mark for the first time since a blowout in Denver on Nov. 14, 2009. And their unlikely scorers included Loui Eriksson, Erik Gudbranson, Ben Hutton and Antoine Roussel.
Even more surprisingly, super-rookie Elias Pettersson registered only a single second assist among the eight goals after entering the game as just the fourth player in nearly a century to score 10 goals in his first 10 NHL games.
But that's the Canucks for you – continually surprising with their ability to score and win. Last season's 73-point team is now 10-6-1 and 4-0-1 in its last five games. During this points streak, they have won games in which they've allowed at least five goals, twice.
They outshot the excellent Bruins 33-28 and trailed only once – for 6 ½ minutes – early in the second period. The Canuck power play scored twice, matching the Bruins' lethal man-advantage unit, and Vancouver goalie Jacob Markstrom was still better than either Jaroslav Halak or Tuukka Rask. And Boston's formidable first line of Patrice Bergeron, David Pastrnak and Brad Marchand combined for just one goal, two points and a minus-eight rating.
The Canucks play the middle third of their six-game road trip Saturday in Buffalo, before playing back-to-back games against the Rangers and Islanders starting Monday in Manhattan.
Stream Canucks hockey on Sportsnet NOW
Sportsnet NOW gives you access to over 500 NHL games this season, blackout-free, including Hockey Night in Canada, Rogers Hometown Hockey, Scotiabank Wednesday Night Hockey, the entire 2019 Stanley Cup Playoffs and more.
CHOOSE PLAN
BO-DACIOUS
Before Elias Pettersson, before Brock Boeser, there was Bo Horvat.
Almost lost in the vortex of Pettersson's astounding career start is that Horvat, the fifth-year pro and future team captain, has elevated his game yet again and is having a terrific first quarter.
It was hard not to notice the fleet, powerful Horvat on Thursday. With Boeser home in Vancouver injured and Pettersson quiet and on another line at even strength, Horvat had two goals and two assists, four shots on net, led Canuck forwards with 19:03 of ice time and took 30 faceoffs, winning 16 of them.
He also took three penalties, which reduced his shorthanded TOI to just 35 seconds and made him a double threat instead of a triple threat. After the last of his minors – and with the Bruins down 6-4 and pressing halfway through the third period – Horvat emerged from the penalty box in time to chase a lob pass from Markus Granlund, …read more
Source:: Sportsnet
(Visited 1 times, 1 visits today)