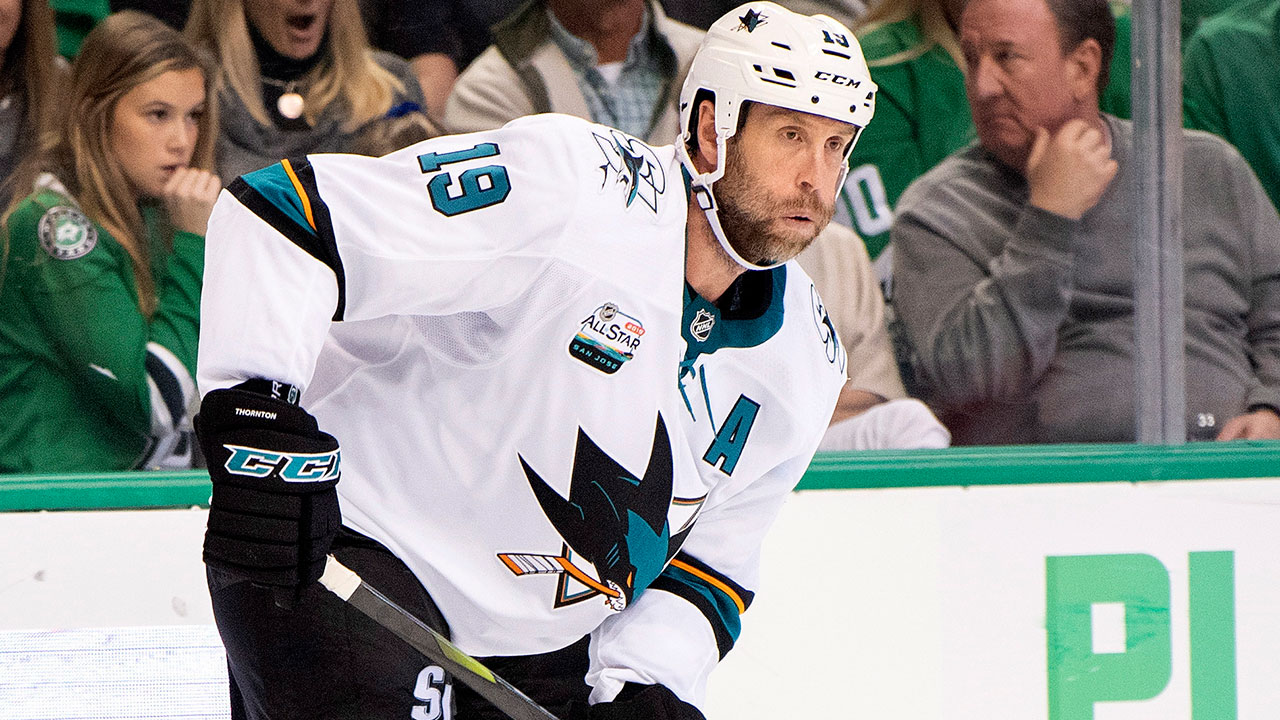 The Oilers, Canadiens and Senators lost while the Canucks scored eight goals in a game for the first time since 2009, and Zach Parise recorded the 700th point of his NHL career.
It was an eventful Thursday night in the NHL. Here are five things we learned.
Thornton hits vaunted 1,500-game plateau
It's only a matter of time before Joe Thornton is inducted into the Hockey Hall of Fame. Before that happens, though, there's still plenty to celebrate while he's active and that was the case Thursday when the centre became the 19th player in NHL history to suit up for his 1,500th regular-season game.
Interestingly enough, Thornton is the now the only first-overall pick from an NHL Draft to reach the venerable milestone.
The previous record for most games played by a No. 1 selection was held by Mike Modano. The Michigan hockey legend retired with 1,499 games played and would've hit the 1,500-game mark were it not for Mike Babcock making him a healthy scratch for a late-season game against the Minnesota Wild in 2011, Modano's final season as a pro, when the two were with the Red Wings.
The next-highest draft pick in the 1,500 club is Thornton's former Sharks teammate Patrick Marleau who happened to go second overall behind Thornton in the 1997 draft.
Of the 19 members in the 1,500-game club, Thornton has more assists than all but six of them. Those six are Hall of Famers Ron Francis, Mark Messier, Ray Bourque, Jaromir Jagr and Steve Yzerman by the way.
Fittingly, Thornton chipped in with a helper Thursday albeit in a losing effort against the Stars. With his second-period assist on Joe Pavelski's seventh of the season (the 124th time Thornton has helped set up a Pavelski goal) he moved within one spot of Mario Lemieux on the NHL's all-time list for most assists.
Thornton had a terrific chance to make it a double milestone night but failed to score the tying goal on a breakaway in the waning seconds of the third period, so he's still sitting at 399 goals for his career.
The Stars got the win and Thornton's 400th career goal will have to wait until at least game No. 1,501 but the night was all about No. 19 in white.
Way to go, Jumbo! Unreal accomplishment.
Respect to the @DallasStars and their fans for giving Jumbo a standing ovation for his 1500 games. pic.twitter.com/svGFsyCc9Q
— San Jose Sharks (@SanJoseSharks) November 9, 2018
1,500 reasons why there's only one Joe Thornton. pic.twitter.com/kd5nt0Gz2S
— NHLPA (@NHLPA) November 9, 2018
The many looks of Jumbo Joe. pic.twitter.com/RvIOFSWbeC
— San Jose Sharks (@SanJoseSharks) November 9, 2018
2 1/2 year old Joe Thornton (red scarf) without skates but ready to go w/ brothers Alex (goalie) and John father Wayne on the pond in St. Thomas, ON Feb '81 Mum Mary the photog Tonight it's #1500 Amazing! @sanjosesharks @nbcsauthentic @nhlonnbcsports @nhl @nhlnetwork
Source:: Sportsnet
(Visited 9 times, 1 visits today)