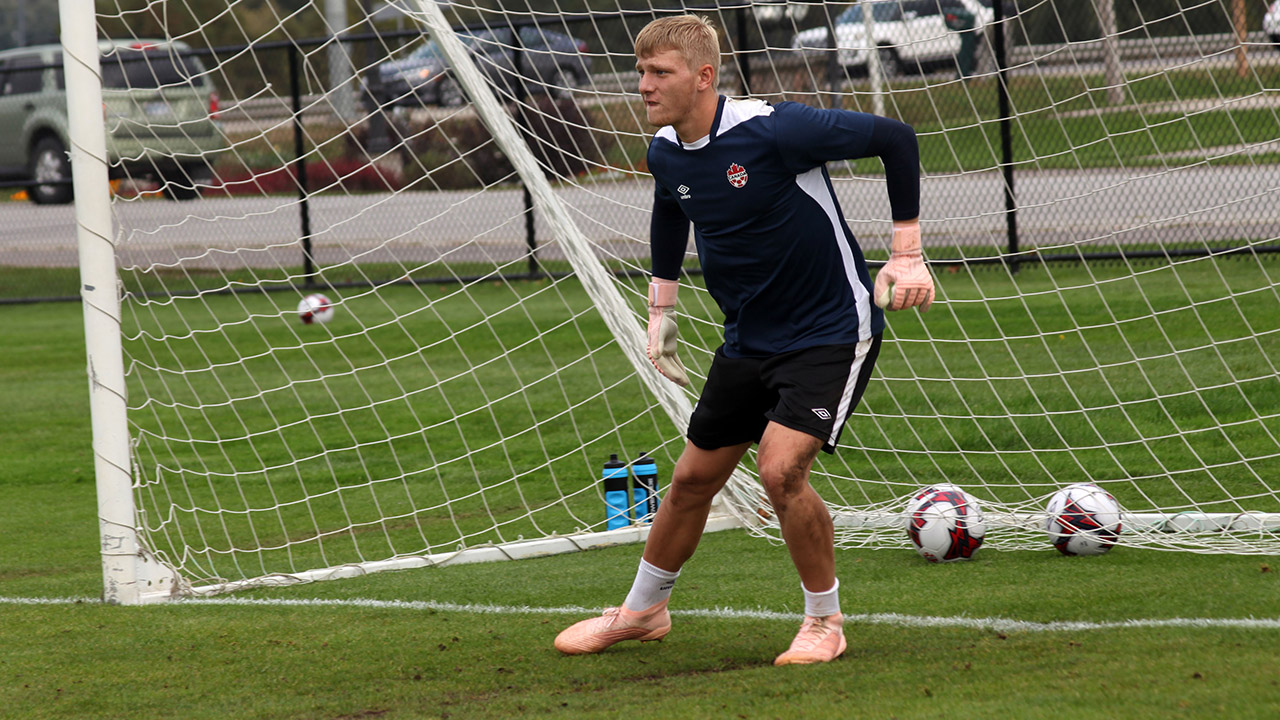 TORONTO – Alessandro Busti is 18, but his mother still sings him to sleep from time to time.
Born in Toronto, Busti has lived most of his life in Turin, Italy, where he's been in the youth system of Serie A club Juventus since he was 10 years old.
Earlier this year, the young goalkeeper received a call from Canadian men's team coach John Herdman, who wanted to gauge his interest in playing international soccer for his birth country. Even though he's spent little time in Canada – he moved to Italy with his parents when he was only six months old – Busti jumped at the chance to represent the Reds.
Ever since, his mother has taken to singing 'O Canada' to him in order to instil Busti, who is still learning English as a second language, with a sense of patriotism for his home and native land.
"It was a surprise, because I didn't think I would have the chance [to play international soccer]. I talked to my parents and my agent, and I decided to go. My parents told me that Canada is a good country. Sometimes before I go to sleep, my mother sings the [national] anthem to me," Busti told Sportsnet.
Busti could get a chance to belt out 'O Canada' prior to the Reds' Concacaf Nations League qualifier against Dominica next Tuesday at BMO Field. If he does feature in that game, he'd be officially tied to Canada.
Busti has yet to play for the Canadian senior side – he was called up for a Nations League qualifier against the U.S. Virgin Islands last month but didn't see any action. He did turn out for Canada's youth team at the prestigious Toulon Tournament in France earlier this year though. Busti made a pair of appearances, including a clean sheet performance in a 1-0 win over Turkey.
"He was outstanding in Toulon, just outstanding. A top professional. He did everything right off the pitch and then when he got his chance on the pitch he was fantastic in the match against Turkey. He led us to that win. From that, we know we've got something special here [and] he's in my mind for potential minutes against Dominica," Herdman told Sportsnet.
Herdman later added: "He has to earn that right. You have to perform on the field [in training camp]. There's no free rides."
pic.twitter.com/qSXwSHWAgh
— Alessandro Busti (@BustiAlessandro) September 12, 2018
Busti's soccer journey began as a nine-year-old when he started playing for Lascaris, a small club from the suburbs of Turin where he was raised. A year later, both Juventus and Torino were interested in him, but he ended up signing with Juve.
"I went to Juventus because it's one of the biggest teams in Europe and the world," Busti said.
Busti has worked his way up Juventus' youth system and currently plays for the Serie A club's under-23 side, and he occasionally trains with the first team, most recently in August.
"It was so fast. [Cristiano] Ronaldo and [Leonardo] Bonucci, they're strong. …read more
Source:: Sportsnet
(Visited 8 times, 1 visits today)