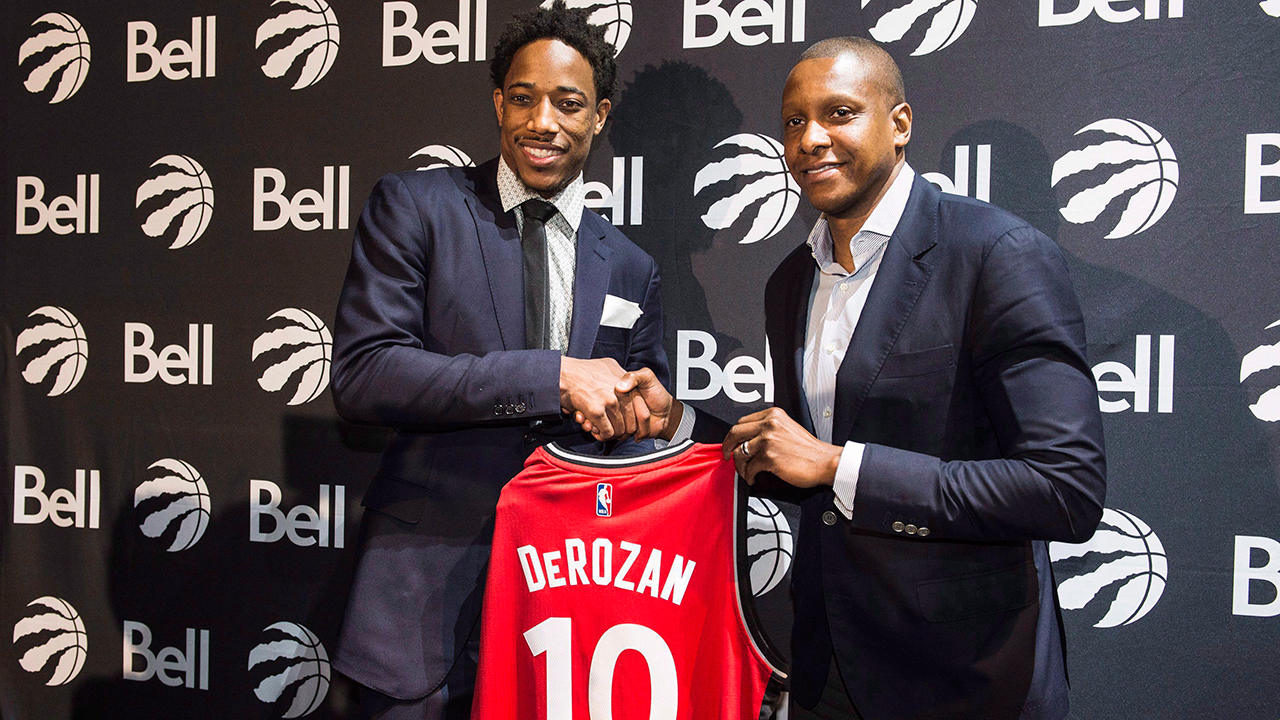 It's been a busy summer for Toronto Raptors president Masai Ujiri.
The man not only fired long-time coach Dwane Casey and promoted assistant Nick Nurse to man the helm, he also completed one of the biggest trades in team history in sending franchise icon DeMar DeRozan, Jakob Poeltl and a protected first-round pick to the San Antonio Spurs in exchange for Danny Green and two-time defensive player of the year, Kawhi Leonard.
Oh, and while he was doing that, he also had time to build a brand new basketball court in Kenya, alongside the 44th President of the United States, Barack Obama.
With training camp set to begin in just 11 days, it would seem Ujiri has just now had time to catch his breath. Sitting down with ESPN's Adrian Wojnarowski for about an hour, Ujiri discussed his jam-packed off-season in the latest episode of The Woj Pod.
Here are some of the highlights from their conversation:
Championship or bust?
One of the most consistent messages Ujiri has sent out throughout his time in Toronto has been the idea that building towards anything short of a championship is a waste of time.
Hence, seeing the same mistakes being made with his team for the last five seasons, Ujiri explains he felt he had no choice but to take a risk and make some sweeping organizational changes.
"Those five years were strong but we had been doing the same thing over and over again," said Ujiri. "So I think it was time for change and time to disrupt a little bit. You don't want to create even more pressure for them, in my opinion. Next year everybody will be looking at, 'Oh, the same thing's going to happen again.'"
"At the end of the day, the goal is a championship. And, honestly, if you're trying to win in the NBA and are just trying to stay in the league I think everybody can do that," Ujiri continued. "Our jobs aren't that hard, to be honest. I think putting teams together and making the playoffs, I don't know that if it's [that hard.] For me, I feel that everybody's goal – the 30 teams – is to win a championship.
"I think these 30 teams want to win and I think they want to win championships. We have to prepare, we have to figure it out. It's our jobs to do that and sometimes that's taking risks, and we have to be willing to do that. I think that's the challenge of the job. At some point, you have to put yourself out there. There's no reason to be afraid of that. …
"In terms of preparation, risk-taking, determination, the passion to go and figure out how to win a championship, well, how many instances, chances are we going to have to get a player at that level, and that's what we're talking about. We weighed those chances of getting a player of the calibre of Kawhi Leonard."
Ujiri has faith the Raptors can …read more
Source:: Sportsnet
(Visited 2 times, 1 visits today)