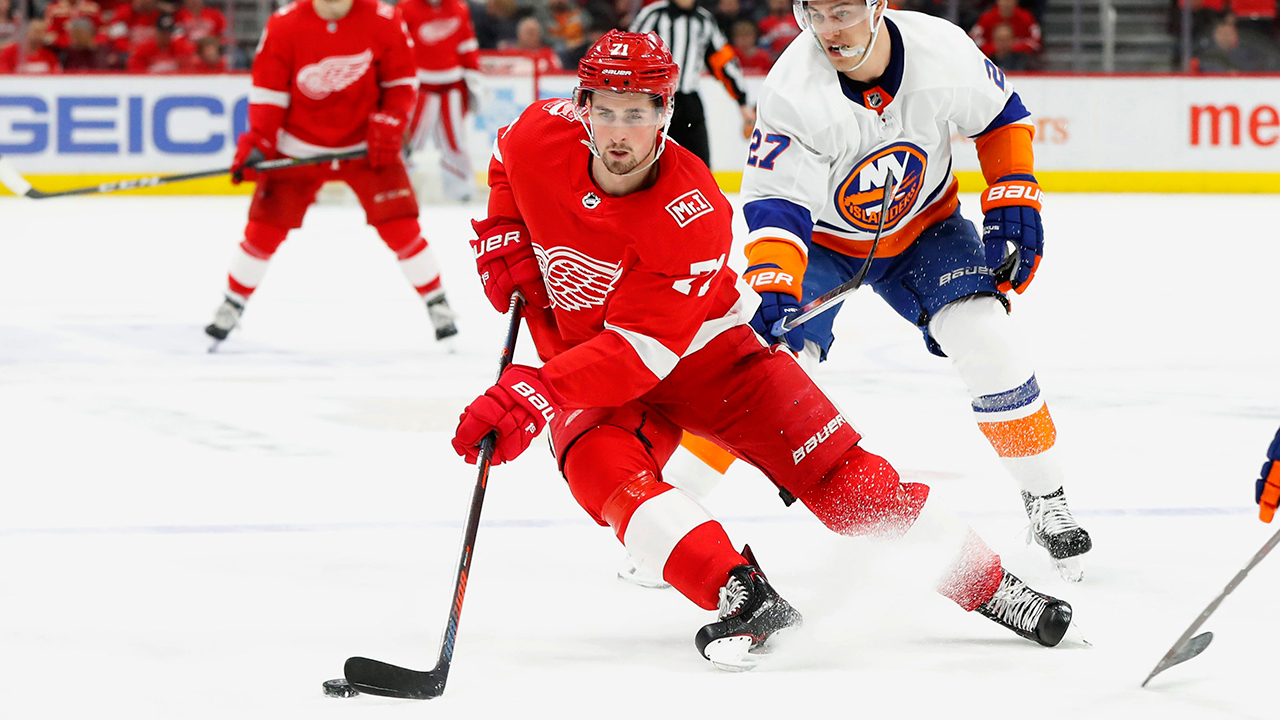 As the NHL's most important restricted free agent left unsigned a week into August, Dylan Larkin's five-year, $30.5-million deal with the Detroit Red Wings Friday should come as a relief to both the player and the franchise.
Here are five things to take away from the contract and the comments made by Larkin and GM Ken Holland in its wake. One for every year.
Detroit's cap issues could be solved by a timely retirement
If the 2018-19 season were to open today, the Red Wings would not be compliant with the salary cap.
"With this deal, we're probably a dribble over," said Holland, who estimates that dribble to be in the ballpark of $1 million, depending which players make the cut.
Holland joins Wings fans in being anxious about captain Henrik Zetterberg's health. Zetterberg, 37, still has three more seasons at a $6.08 million hit, but because he signed a back-diving contract, he's only slated to take home $5.35 million in real money over that span.
Not that Zetterberg's poor health is being fabricated, but we won't blame you if you see a parallel to Marian Hossa's retirement in cap-strapped Chicago a year ago.
Zetterberg essentially didn't practice the last two-and-a-half months of 2017-18. He only played games. Holland has spoken with Zetterberg's agent numerous times over the off-season and is curious to see if he's good to go in September.
"I know he's had a tough summer. [He] hasn't been able to train anywhere near as close to what he's been able to train the past summers due to his back," Holland said. "So there's a real unknown with Henrik Zetterberg."
If Zetterberg can play — which is Holland's preference — then the $1 million cap overage is "a workable number," he said.
Larkin believes Zetterberg would play through pain if it meant improving the Red Wings.
"He's going to help our team no matter what — if he's playing on one leg or whatever," Larkin said. "He's, I think, the best player on our team, so it would definitely hurt losing him, but he does have to look after his future."
Detroit is placing a premium on youth
Holland used the word rebuild in discussing the critical re-signing of Larkin, and he's wise to go long-term with his best young player, avoiding, say, the RFA awkwardness that struck Ottawa with Mark Stone.
Larkin is one to build around, while a trio of other young RFA forwards — Andreas Athanasiou, Anthony Mantha and Tyler Bertuzzi — were only given one- or two-year deals.
"We all felt there's more to give, there's more to come. That's why you do a short-term deal. I can't pay off speculation, and a player doesn't want to sign a long-term deal too early on and outperform that deal significantly," Holland explained. "We're going younger. We're trying to rebuild it."
When asked if other young players will get a chance to earn spots in camp, Holland said "We're …read more
Source:: Sportsnet
(Visited 16 times, 1 visits today)