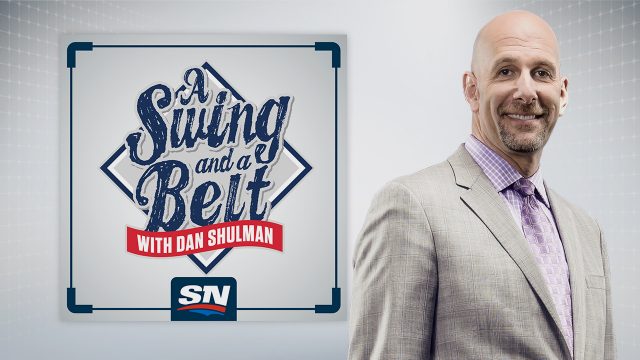 John Gibbons hears the rumours about his future and knows MLB managers are hired to be fired, but he's not overly concerned about the chatter that this will be his final season leading the Toronto Blue Jays.
"It's like crying wolf," Gibbons told MLB Network Radio Friday. "Sooner or later it's going to happen, I can guarantee you that. I've learned to dismiss those things. It's a reality, though. (The front office) inherited me here. We've got a good working relationship."
Blue Jays GM Ross Atkins said Tuesday that Gibbons remains in good standing with the front office and continues to contribute to plans for this season and beyond.
"Our relationship's great," Atkins said. "Every day our conversation's about solutions and part of our conversations obviously have to incorporate the future, too, so he's very much a part of those."
A Swing and a Belt with Dan Shulman
In this MLB and Toronto Blue Jays podcast, Dan Shulman takes a look at the human side of baseball. Because everyone in the game has a story.
Home
| Subscribe
| Shulman on Twitter
Gibbons has managed the Blue Jays to 772 career wins, second in franchise history behind Cito Gaston. His tenure has included two ALCS appearances, but the Blue Jays' roster has started to turn over in recent months, with more changes likely to follow.
"This is starting to get into a full-blown rebuild and if my days are finished here, it's been a wonderful ride," Gibbons said. "Maybe they would benefit from getting a new, fresh face that could grow with young players and things like that. I'm not so sure that I want to go through one of those things, a total rebuild, but we'll probably sit down before it's all said and done and talk that out."
Yay or nay: Do you want to see John Gibbons return as #BlueJays manager?
A post shared by Sportsnet (@sportsnet) on Aug 10, 2018 at 11:47am PDT
Gibbons' contract runs through 2019 with a 2020 team option. When asked about the potential challenges of overseeing a rebuild, the 56-year-old joked about his age.
"I'm not that 35-year-old kid anymore," Gibbons said. "Those things take time. I want to continue doing this job in some capacity. I think one of my strengths is patience. I've always had great patience. But I don't know if I have that much patience."
Source:: Sportsnet
(Visited 2 times, 1 visits today)