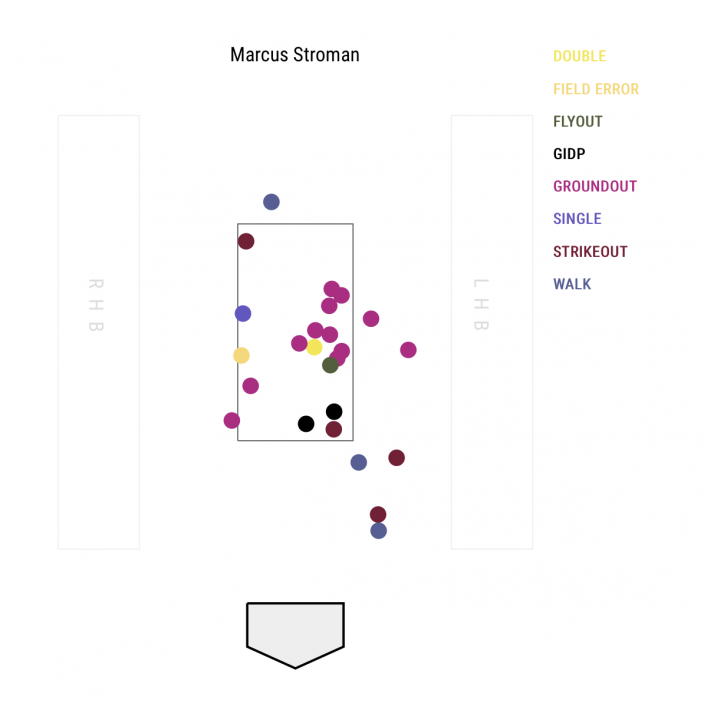 TORONTO – For seven innings Marcus Stroman was as good as he's been this season. His two-seamer was on point. His cutter and slider, too. He needed only 92 pitches to cut through a Boston Red Sox team that is rather definitively showing itself to be baseball's best club.
But as he took the mound to warm up for the eighth inning Tuesday night, an old foe had re-emerged. During the seventh frame he tore through a blister on his right middle finger. As he returned to the field to get loose, his command was gone. Trying to nurse a 3-1 lead, the right-hander thought better of chancing it.
"I didn't want to run into me throwing two balls, three balls and walking the leadoff guy," Stroman said afterwards.
if ( "1" == true && 'undefined' !== typeof window.getIndexAds ) {
var so = {preroll:{1:{1:{siteID:191888},2:{siteID:191889}}}};
adServerUrl = window.getIndexAds( 'http://pubads.g.doubleclick.net/gampad/ads?sz=640×360&cust_params=domain%3Dsportsnet.ca&iu=%2F7326%2Fen.sportsnet.web%2FVideo&ciu_szs=300×250&impl=s&gdfp_req=1&env=vp&output=vast&unviewed_position_start=1&ad_rule=1&vid=5819308984001&cmsid=384', so, permalink);
} else {
adServerUrl = "http://pubads.g.doubleclick.net/gampad/ads?sz=640×360&cust_params=domain%3Dsportsnet.ca&iu=%2F7326%2Fen.sportsnet.web%2FVideo&ciu_szs=300×250&impl=s&gdfp_req=1&env=vp&output=vast&unviewed_position_start=1&ad_rule=1&vid=5819308984001&cmsid=384";
}
$el.after( unescape("%3Cscript src="" + (document.location.protocol == "https:" ? "https://sb" : "http://b") + ".scorecardresearch.com/beacon.js" %3E%3C/script%3E") );
$( document ).one( 'ready', function() {
$( "#video_container-721195" ).SNPlayer( {
bc_account_id: "1704050871",
bc_player_id: "rkedLxwfab",
//autoplay: false,
//is_has_autoplay_switch: false,
bc_videos: 5819308984001,
is_has_continuous_play: "false",
adserverurl: adServerUrl,
section: "",
thumbnail: "https://assets1.sportsnet.ca/wp-content/uploads/2018/08/1704050871_5819315446001_5819308984001-vs-1024×576.jpg",
direct_url: "https://www.sportsnet.ca/baseball/mlb/marcus-stroman-will-make-next-start-despite-blister/"
});
});
Once he departed, everything unravelled for the Toronto Blue Jays in what finished as a 10-7 loss in 10 innings to baseball's first 80-win squad this year. Ryan Tepera gave up four runs in …read more
Source:: Sportsnet
(Visited 4 times, 1 visits today)