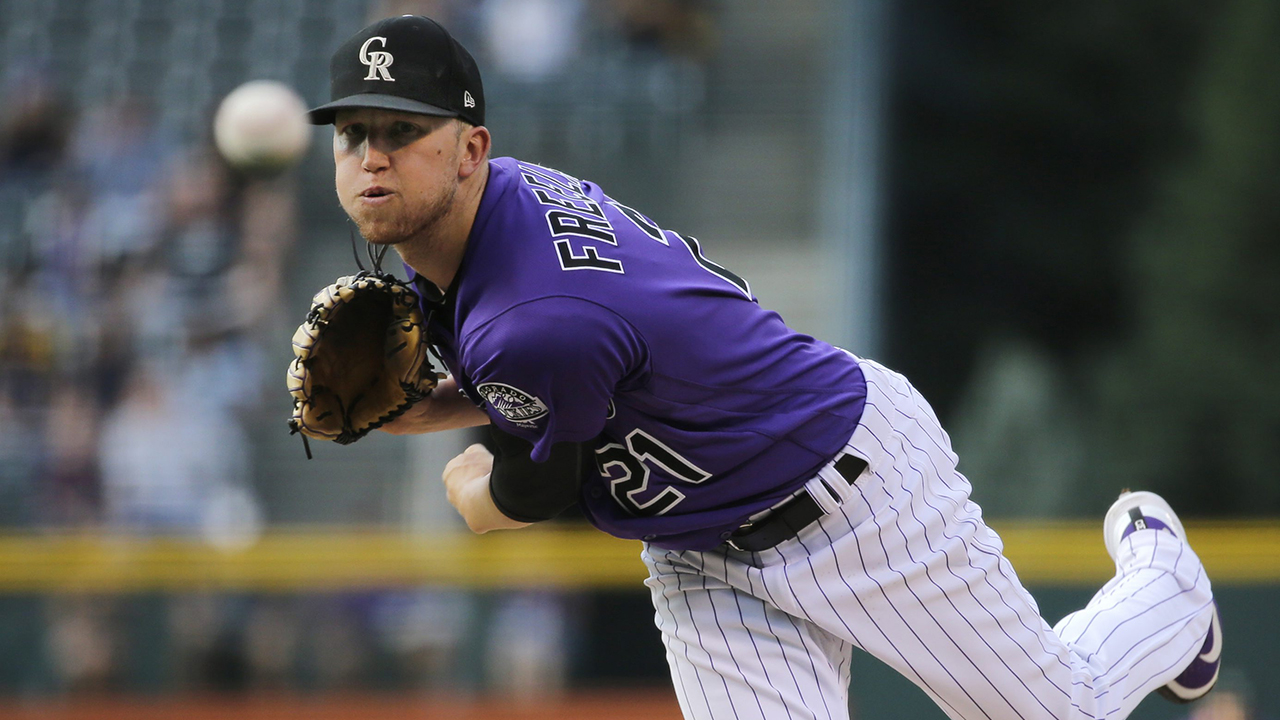 DENVER — Kyle Freeland has the stuff of an ace. He delivers in the clutch like an ace, too.
Just don't expect Colorado manager Bud Black to label the left-hander one yet. Not even a dominating performance like this could sway him.
Freeland threw seven sharp innings and combined with the bullpen on a two-hitter to help the Rockies beat the Pittsburgh Pirates 2-0 on Monday night in a game that was interrupted 32 minutes by rain.
"I'm a critical judge of an ace," Black said. "For me, an ace is somebody that does it over a long period of time. This is no knock on Kyle. I mean, for me, an ace is the guy who's passed the test of time, who's been an All-Star, maybe conceivably won a Cy Young.
"But, hey, don't get me wrong: I love the way Kyle's pitching. He's been great."
Freeland (10-7) allowed two hits and struck out five. It was his fourth career game of seven or more shutout innings at Coors Field.
"The one thing is not letting the old Coors Field effect come into play for me," said Freeland, who grew up in Denver. "I pitch my game."
Relievers Seunghwan Oh and Wade Davis combined to close out the win. Davis pitched a perfect ninth for his 32nd save in 38 chances.
It was a positive step for a beleaguered bullpen that endured three walk-off losses — two by Davis — during a 2-5 road swing.
"Good to see Wade bounce back," Black said.
Joe Musgrove (4-6) retired the first 12 batters he faced before allowing a single to Nolan Arenado on the first pitch of the fifth. The right-hander scattered four hits over seven innings and allowed two runs, one earned.
Colorado scored both of its runs off Musgrove in the fifth. Arenado raced home with the first when Josh Harrison booted Gerardo Parra's grounder. Just then, the rain picked up intensity and the grounds crew brought out the tarp.
"I was locked in," Musgrove said. "I didn't realize how hard it was raining until I walked off the field."
After the delay, Musgrove hit Ian Desmond to load the bases and Chris Iannetta followed with a sacrifice fly to bring in another run. The damage could've been more if not for right fielder Gregory Polanco throwing out Parra trying to score from second on David Dahl's single.
"I would've rather not had it," Musgrove said of the delay. "The delay kind of caused me to lose my rhythm a little bit."
Freeland allowed a single to Corey Dickerson to lead off the game and Musgrove's double in the third. Other than that, Freeland was tough to solve against a …read more
Source:: Sportsnet
(Visited 2 times, 1 visits today)