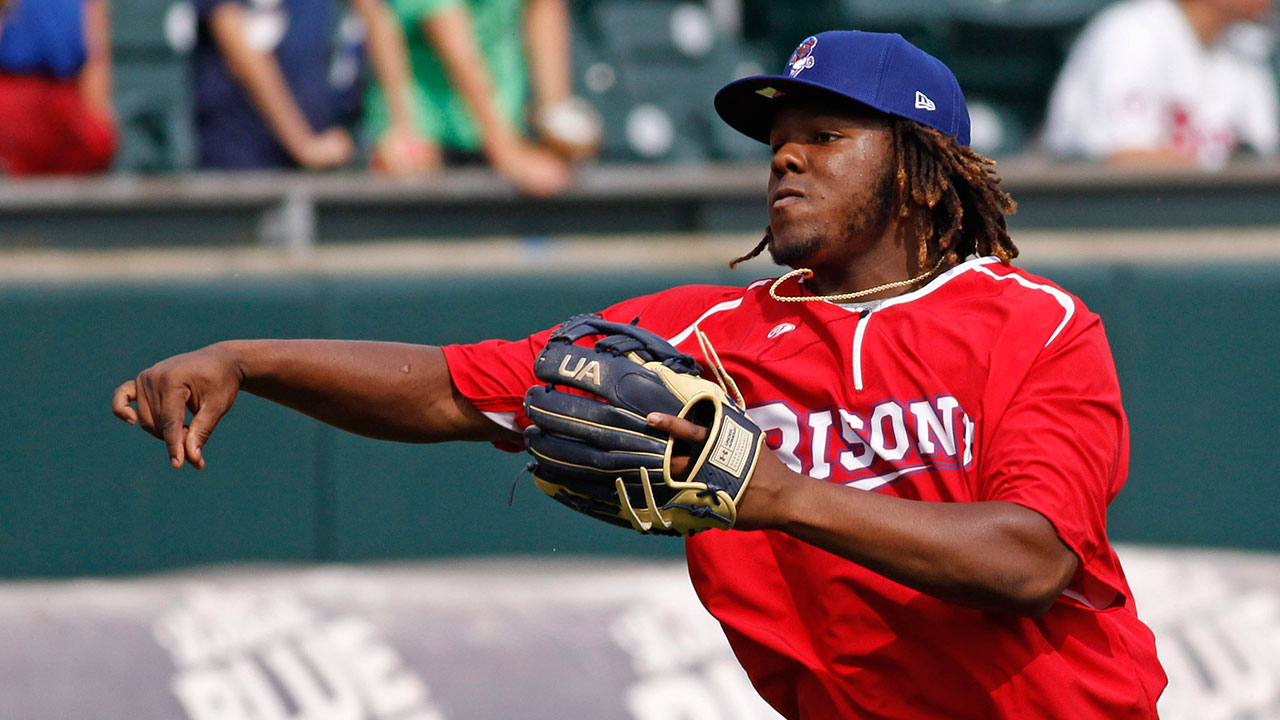 If you ask Buffalo Bisons manager Bobby Meacham the areas in which Vladimir Guerrero Jr. can improve, you won't hear him say much.
Guerrero is currently ranked as the best prospect in baseball, according to MLB Pipeline, and he's performing like it.
The third baseman was recently called up to triple-A where he has made 23 plate appearances through his first six games with the Bisons, slashing .286/.522/.357 and showing off his discipline at the plate by drawing a whopping eight walks.
"That's just a guy who's confident in his abilities," Meacham told Jeff Blair and Kevin Barker on Baseball Central Tuesday. "We always talk about hitters going up to the plate and getting a good pitch to hit. Good hitters go up there and talk about that every day [and] that's kind of what he does. He just simplifies things, looks like he's really under control of his own swing, he knows what he wants to go up there and hit and if they don't give it to him he just lets it go."
[radioclip id=4164337]
Meacham mentioned that Guerrero is adjusting quite well to triple-A life and said he has urged Guerrero to not merely blend in at this level, but to stand out.
So far, he's done that.
Among the next challenges for Guerrero on his path to the majors will be how he adjusts to more talented and cerebral pitchers. Meacham also mentioned he's curious to see what happens when Guerrero falls into a slump like all players eventually do.
"I think his adjustments to what they're trying to take advantage of, that's the key," Meacham said. "When he starts to go bad, when something goes wrong for a few games we'll see what adjustments he can make but I don't think he has to change anything. Like I'm saying, he looks like a guy who goes to the plate looking for a good pitch to hit and that's all I've seen so far. Every at-bat of his, whether they're pitching him in or trying to make him chase, he's handled it really well. We'll see what kind of adjustments he makes when they start to pitch him tougher."
His eye at the plate is one aspect to what makes Guerrero such a vaunted prospect, but the 19-year-old's overall baseball IQ could be what propels him to the Toronto Blue Jays earlier than most top ranked prospects.
"I think that's the key to being able to move up the ladder as quickly as you can in the minor leagues to get to the big league is that understanding of the game of baseball," Meacham said. "Sometimes offensively he'll see our pitcher have a long inning and the other day he was like, 'Hey, is that pitcher going back out there? I want to know so I can know whether to give him a break and take a couple of pitches [to give him more time to recover].' …
"He's real attentive to what we're doing. His …read more
Source:: Sportsnet
(Visited 8 times, 1 visits today)