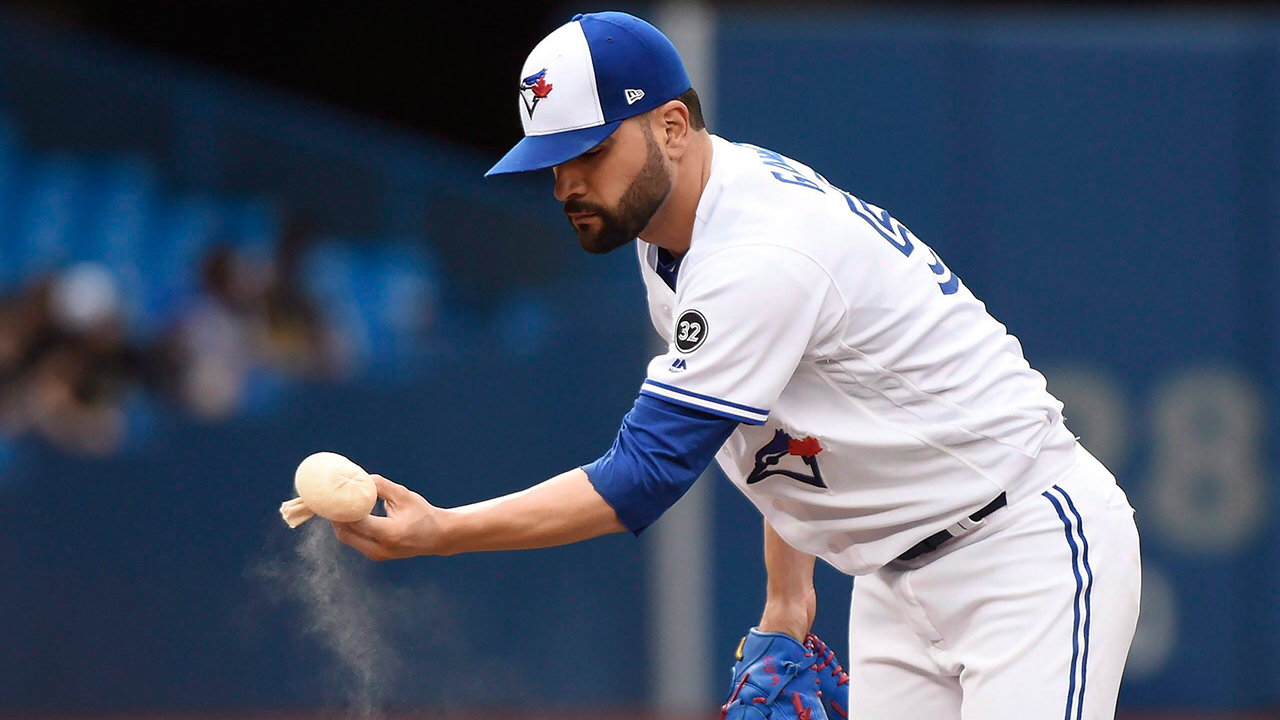 BOSTON — After he was forced to use six relievers to get through the final six innings of Friday night's 13-7 slugfest with the Boston Red Sox, Toronto Blue Jays manager John Gibbons put it bluntly: "there will be a move or two — definitely."
There is a strong chance one of those moves will be the return of Jaime Garcia, who could come off the disabled list and rejoin the Blue Jays ahead of Saturday's game. The Blue Jays are also considering recalling Chris Rowley from triple-A Buffalo to bolster the team's beleaguered bullpen.
Garcia has been on the DL since June 23 with left shoulder inflammation, and threw a scoreless inning during a rehab outing for the Dunedin Blue Jays Thursday. The 32-year-old made 13 starts for the Blue Jays before hitting the DL, but is expected to remain in a relief role for the foreseeable future.
The bullpen reinforcements are critical considering Sam Gaviglio will start Saturday's game on only two day's rest after throwing 48 pitches in a start against the Atlanta Braves Wednesday night. The Blue Jays are expecting Gaviglio to be able to throw around 50 pitches Saturday.
As far as corresponding moves to open roster spots for Garcia and Rowley, the Blue Jays have several options. Teoscar Hernandez reported to Fenway Park Friday with a sore left heel, and was scratched from that night's lineup. With fellow outfielder Dwight Smith Jr. having been recalled from triple-A, Hernandez could wind up on the 10-day disabled list.
With the regular season on pause for next week's all-star break, Hernandez would only have to miss a handful of games, provided the injury proves minor. Alternatively, if Hernandez makes an exceptionally swift recovery in time for Saturday's game, Smith Jr. himself could be optioned. But the former is more likely than the latter.
The Blue Jays could also use the all-star break to their advantage by optioning Friday's starter Ryan Borucki to triple-A. The club could conceivably push his next start back to July 24, allowing him to return to the majors after spending the required 10 days in the minors following his option.
if ( "1" == true && 'undefined' !== typeof window.getIndexAds ) {
var so = {preroll:{1:{1:{siteID:191888},2:{siteID:191889}}}};
adServerUrl = window.getIndexAds( 'http://pubads.g.doubleclick.net/gampad/ads?sz=640×360&cust_params=domain%3Dsportsnet.ca&iu=%2F7326%2Fen.sportsnet.web%2FVideo&ciu_szs=300×250&impl=s&gdfp_req=1&env=vp&output=vast&unviewed_position_start=1&ad_rule=1&vid=5809200341001&cmsid=384', so, permalink);
} else {
adServerUrl = "http://pubads.g.doubleclick.net/gampad/ads?sz=640×360&cust_params=domain%3Dsportsnet.ca&iu=%2F7326%2Fen.sportsnet.web%2FVideo&ciu_szs=300×250&impl=s&gdfp_req=1&env=vp&output=vast&unviewed_position_start=1&ad_rule=1&vid=5809200341001&cmsid=384";
}
$el.after( unescape("%3Cscript src="" + (document.location.protocol == "https:" ? "https://sb" : "http://b") + ".scorecardresearch.com/beacon.js" %3E%3C/script%3E") );
$( document ).one( 'ready', function() {
$( "#video_container-491256" ).SNPlayer( {
…read more
Source:: Sportsnet
(Visited 4 times, 1 visits today)