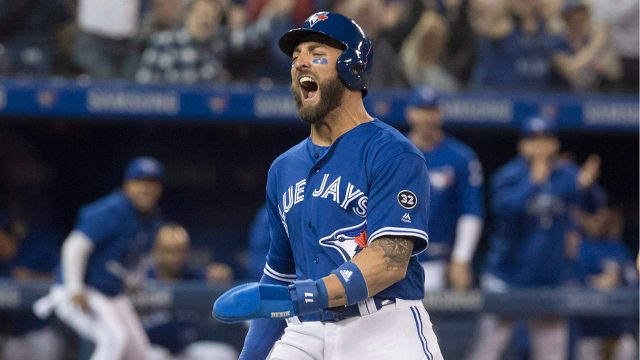 BOSTON — Despite taking positive steps during a bullpen session Wednesday, Blue Jays starter Marco Estrada will not pitch again until after the all-star break as he continues to recover from a left groin strain.
Estrada last pitched July 3 when the injury forced him out of a start vs. the New York Mets after facing only three batters. He said at the time that he first began experiencing the issue during a start against the Los Angeles Angels on June 22. He pitched through it his next time out — June 27 vs. Houston — and was reasonably effective, holding the Astros to three earned runs on seven hits over five innings. But when he took the mound against the Mets he found the injury too excruciating to weather.
Wednesday's bullpen was his first time pitching off a mound since, and although Estrada felt he could get through a start if needed, the Blue Jays will err on the side of caution with the right-hander.
"He could've gone out there, but he'd probably labour through it," Blue Jays manager John Gibbons said. "It just makes no sense if he's not ready to go this close to the break. This way, when he comes out of it, it's gone."
Depending how the Blue Jays line up their rotation following the all-star break, the club could potentially push Estrada as far back as July 24, which would give him three full weeks between starts. If he started that day, he could return to pitch on July 30, the day before MLB's non-waiver trade deadline.
That's an important date. Estrada's a pending free agent, and it's expected the Blue Jays will try to move him prior to the deadline if he's healthy and effective.
After struggling to a 5.68 ERA through the end of May, Estrada rebuilt some trade value with a strong June — he pitched to a 2.35 ERA over five starts that month — before the glute injury threw that into question. But if Estrada can pitch without issue twice before the deadline, he'll likely have done enough to convince a team looking for a starting pitching to consider acquiring him.
Meanwhile, pushing Estrada back leaves a hole in Toronto's rotation for Saturday's game vs. the Boston Red Sox. The club has yet to settle on a starter, although one option Gibbons raised Thursday would be to bring back Sam Gaviglio, who threw only 48 pitches over 1.2 innings Wednesday in Atlanta.
Gaviglio likely wouldn't pitch particularly deep into Saturday's game if he did get the start, which would make it essentially a bullpen day for the Blue Jays, with relievers Luis Santos and Jake Petricka both able to give the club multiple innings. But the feasibility of that option will depend on how taxed Toronto's bullpen is over its next two games at Fenway Park.
Other options to start Saturday are triple-A right-handers Nick Tepesch and Chris Rowley. Tepesch is coming off a pair of extremely rough outings with Buffalo — he's …read more
Source:: Sportsnet
(Visited 7 times, 1 visits today)