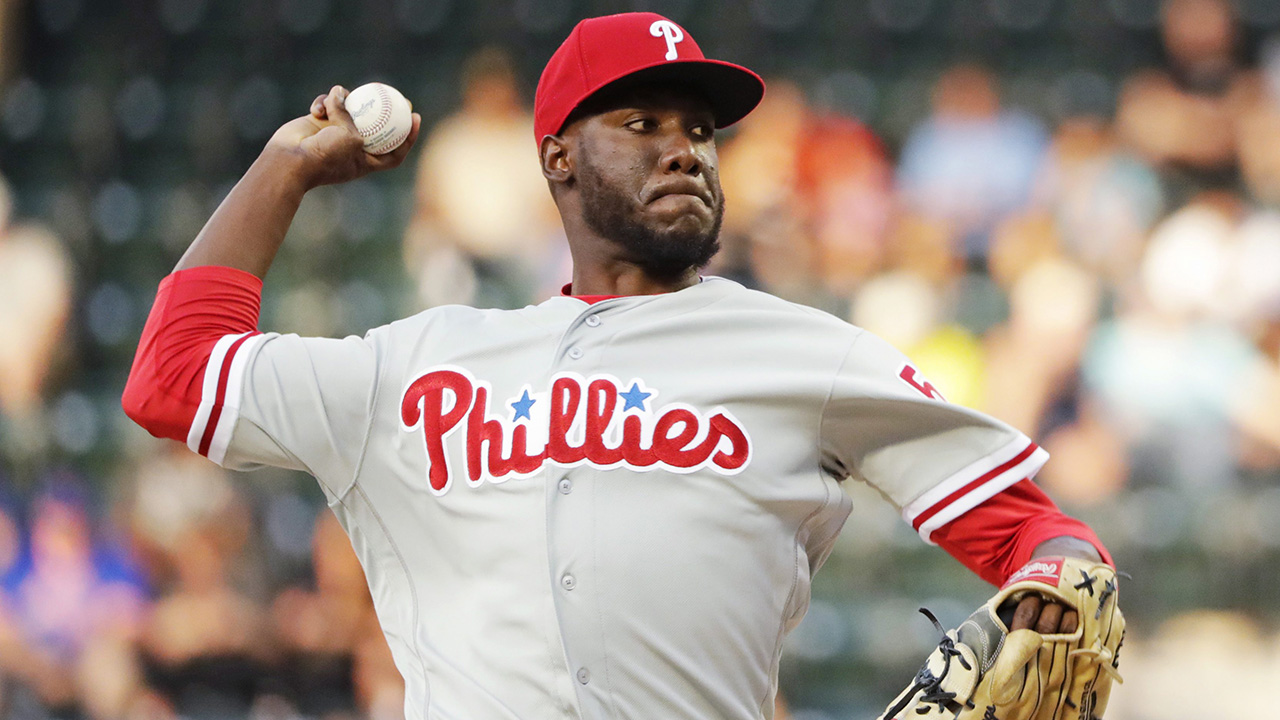 NEW YORK — Phillies prospect Enyel De Los Santos was slated to be the International League's starting pitcher in the Triple-A All-Star Game on Wednesday. Instead, he joined the big club and made the most of an unexpected opportunity.
De Los Santos won his major league debut and Philadelphia got home runs from Maikel Franco and Odubel Herrera in a 7-3 victory over the New York Mets on Tuesday night.
Franco drove in four runs as the Phillies won for the 10th time in 13 games and took over sole possession of first place in the NL East. Nick Williams had three hits and two RBIs, and Rhys Hoskins also got three hits.
De Los Santos allowed three runs and five hits over 6 1/3 effective innings. The 22-year-old right-hander was called up from Triple-A Lehigh Valley, where he was 9-3 with a 1.89 ERA in 16 starts, and matched against another starter making his big league debut in Drew Gagnon of the Mets.
"I was going to start that Triple-A game but this is much better," De Los Santos said through a translator. "This is a dream come true."
Staked to an early lead and armed with an unorthodox and deceptive slingshot delivery that Philadelphia manager Gabe Kapler dubbed a "crossfire," De Los Santos (1-0) cruised for most of the night against a scuffling Mets lineup that's managed only eight runs over the last five games.
"It's kind of a short-arm stroke," Kapler said. "Hides the ball with his body well and leads to uncomfortable swings."
De Los Santos walked three and struck out six. He threw 94 pitches, 58 for strikes.
His girlfriend and a few winter ball teammates were in the crowd to cheer him on.
"A very, very poised, confident individual on the mound and in the dugout," Kapler added. "The job he did was tremendous."
Acquired from San Diego in December for shortstop Freddy Galvis, De Los Santos was also chosen to play for the World Team in Sunday's All-Star Futures Game.
It was the first time a Phillies starter made his debut against another starter in his first outing since Sept. 25, 1944, according to the Elias Sports Bureau. Back then, Charlie Ripple faced Charlie Gassaway of the Chicago Cubs at Shibe Park.
Amed Rosario had three hits for the Mets, including two triples to left field. New York has dropped 19 of its last 23 home games.
Franco put the Phillies ahead with a three-run homer off Gagnon (0-1) in the second.
"The changeup was up. Anyone could have hit that out," Gagnon said. "But hat's off to him."
Franco is batting .440 with two homers and seven RBIs over his last eight games. He added an RBI …read more
Source:: Sportsnet
(Visited 29 times, 1 visits today)