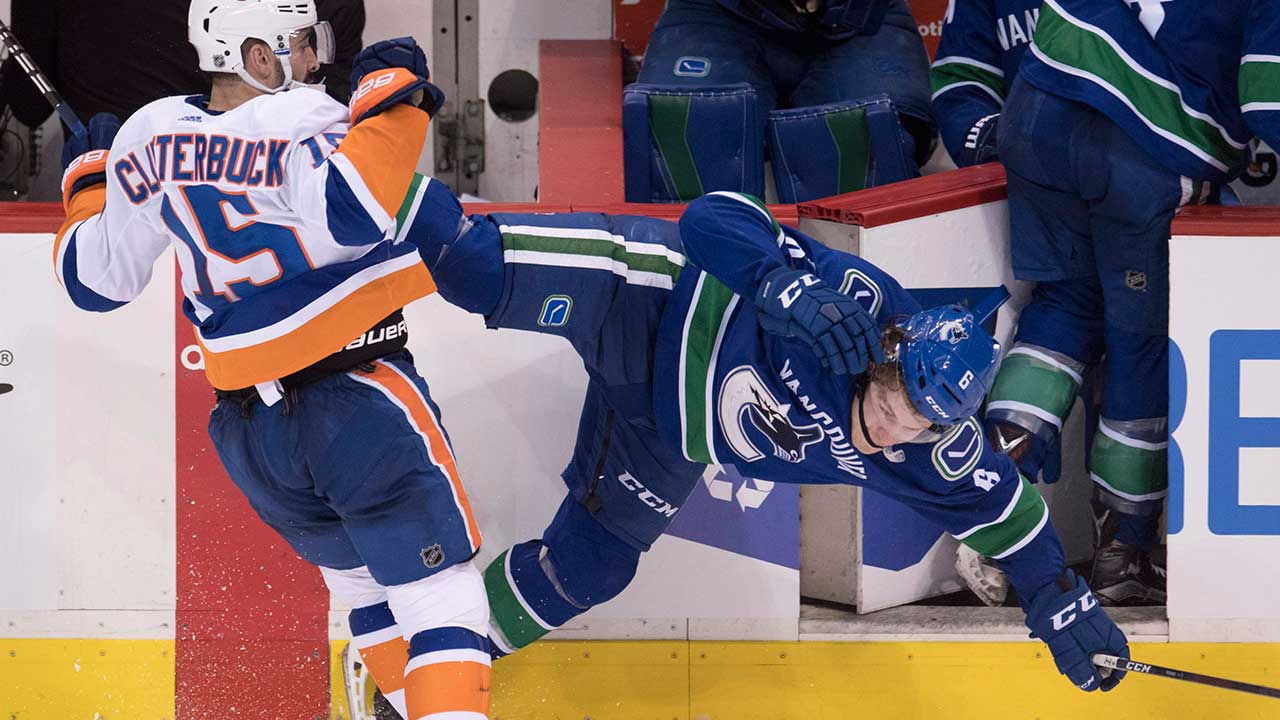 Brock Boeser had a whirlwind 2017-18 campaign. The youngster established himself as one of the top snipers in the NHL and a player the Vancouver Canucks can begin to build around as the franchise moves on the from the Sedin era.
Unfortunately, his season was cut short due to a significant back injury suffered in early March.
Boeser went into detail about what he experienced that night in a video the Canucks posted Wednesday.
"I was thinking a lot of things [when I first went down]," Boeser explained. "I hit my head too so I was seeing stars at first. At first I couldn't really move my left leg so I was laying there on the ice and just didn't move because I didn't know what I hurt, if it was my pelvis, I didn't even know it was my back at first honestly.
"And then I started to get a little panicky there laying on my stomach so I had to flip over. I didn't know I was hurt but I had to flip over to my back or else I was going to have a panic attack. I was laying there and it just continued to hurt.
"It was the worse pain probably I've ever had."
if ( "1" == true && 'undefined' !== typeof window.getIndexAds ) {
var so = {preroll:{1:{1:{siteID:191888},2:{siteID:191889}}}};
adServerUrl = window.getIndexAds( 'http://pubads.g.doubleclick.net/gampad/ads?sz=640×360&cust_params=domain%3Dsportsnet.ca&iu=%2F7326%2Fen.sportsnet.web%2FVideo&ciu_szs=300×250&impl=s&gdfp_req=1&env=vp&output=vast&unviewed_position_start=1&ad_rule=1&vid=5745700394001&cmsid=384', so, permalink);
} else {
adServerUrl = "http://pubads.g.doubleclick.net/gampad/ads?sz=640×360&cust_params=domain%3Dsportsnet.ca&iu=%2F7326%2Fen.sportsnet.web%2FVideo&ciu_szs=300×250&impl=s&gdfp_req=1&env=vp&output=vast&unviewed_position_start=1&ad_rule=1&vid=5745700394001&cmsid=384";
}
$el.after( unescape("%3Cscript src="" + (document.location.protocol == "https:" ? "https://sb" : "http://b") + ".scorecardresearch.com/beacon.js" %3E%3C/script%3E") );
$( document ).one( 'ready', function() {
$( "#video_container-892677" ).SNPlayer( {
bc_account_id: "1704050871",
bc_player_id: "rkedLxwfab",
//autoplay: false,
//is_has_autoplay_switch: false,
bc_videos: 5745700394001,
is_has_continuous_play: "false",
adserverurl: adServerUrl,
section: "",
…read more
Source:: Sportsnet
(Visited 5 times, 1 visits today)