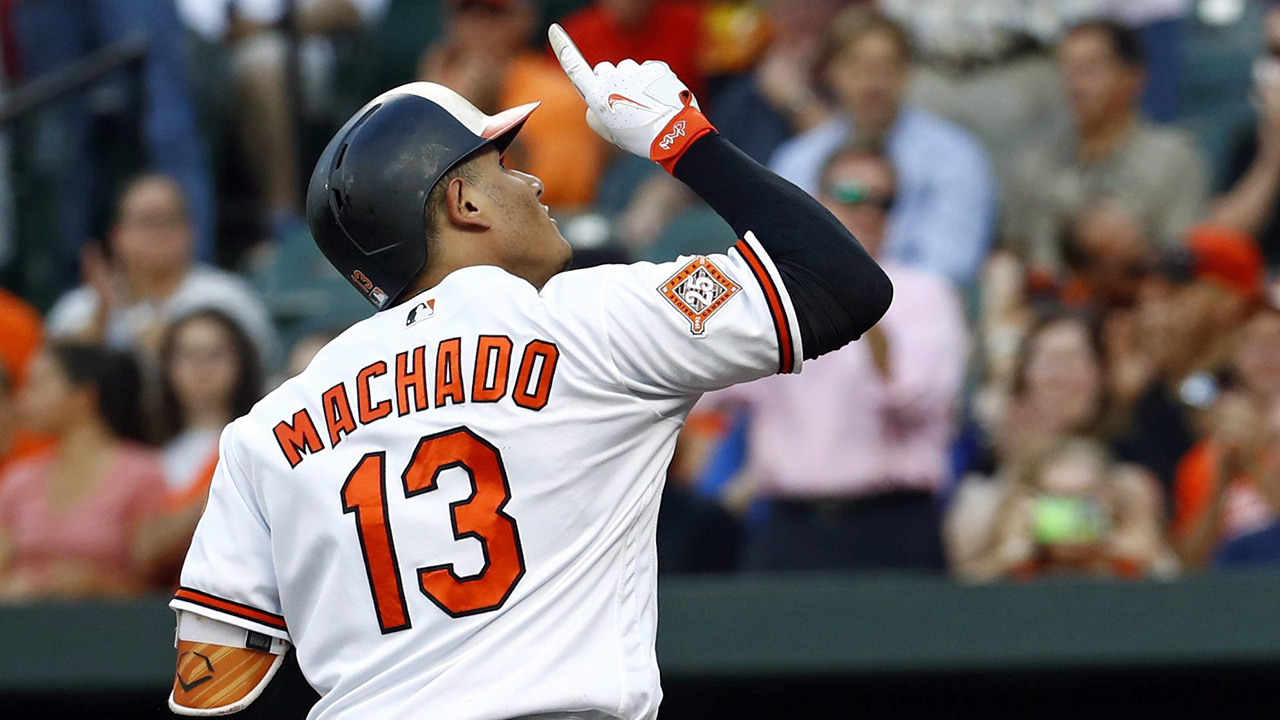 The New York Yankees are reportedly interested in trading for Manny Machado according to Ken Rosenthal of the Athletic, a move that would add another right-handed power bat to their lineup.
Sources: #Yankees showing increased interest in #Orioles' Machado. https://t.co/Vm58CQmFUc $
— Ken Rosenthal (@Ken_Rosenthal) July 10, 2018
The 26-year-old has 21 home runs, 60 RBIs while hitting .313/.382/.560 with the Orioles this season. If New York is able to pull the trigger on a deal, Machado would be joining a highly touted lineup that already has Giancarlo Stanton, Aaron Judge and Gary Sanchez.
Rosenthal reported that any deal involving Machado wouldn't take place before the All-Star Game which means that he should be representing the Baltimore Orioles in Washinton D.C.
The Yankees aren't the only team interested Machado. Rosenthal reports that the Los Angeles Dodgers and the Milwaukee Brewers have shown a lot of interest in the shortstop who is expected to be the top target in this year's trade deadline.
The Arizona Diamondbacks, Philadelphia Phillies, Atlanta Braves, Cleveland Indians and Chicago Cubs have also been connected to the Orioles in recent reports.
According to Rosenthal, Orioles' executive vice-president Dan Duquette would prefer to send Machado to the National League rather than to a division rival. However, Duquette told The Baltimore Sun back in December that he would consider a trading Machado to an AL East team but they would probably have to pay a steeper price.
With Baltimore owning the worst record in the MLB, they will need to do their best to get the best return for Machado. That should favour the Yankees who have a deep farm system which could allow them to offer a better package than any other team.
At the same time, Rosenthal mentions that offer likely won't include third-baseman Miguel Andujar, a potential rookie-of-the-year candidate. If Machado were to come to the Big Apple he would probably have to move back to third base, after shifting to shortstop this season.
Rosenthal also added that the Yankees would consider re-signing Machado after this season, when he is set to become a free agent.
Jon Heyman of Fancred Sports reported over the weekend that New York has also shown interest in Orioles closer Zach Britton and could try to acquire both in a package deal.
A deal like this could help the Bronx Bombers in their battle against the Boston Red Sox for the division lead. Boston entered play Monday with a two-and-a-half game lead in the AL East.
Source:: Sportsnet
(Visited 12 times, 1 visits today)