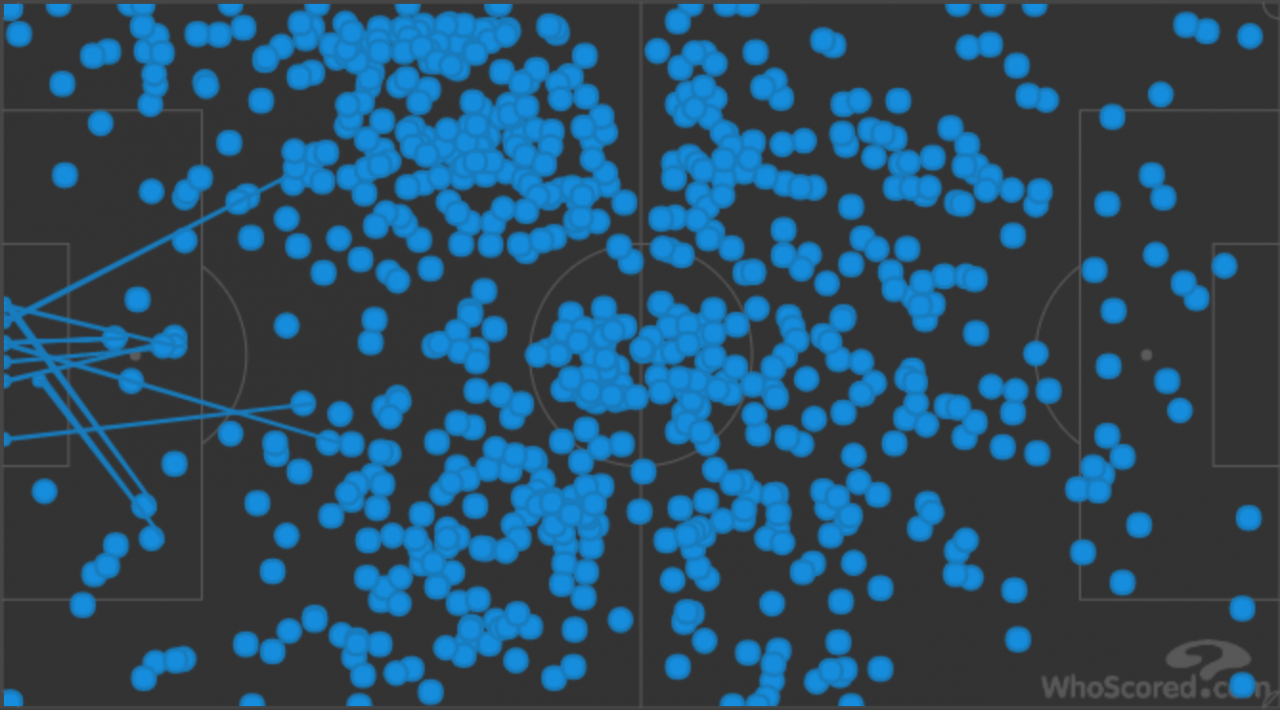 France is back in the World Cup final for the first time since 2006 after edging Belgium 1-0 in their semifinal match on Tuesday.
Samuel Umtiti scored the winner, which was a fitting conclusion considering how immense the French defence has been all tournament long.
Here are three winners and three losers from Tuesday's semifinal.
WINNERS
French defence
Not for the first time at this World Cup, the French defence delivered another majestic performance.
France allowed just nine shots (three on target) and limited Belgium's distribution in the final third, especially around the box. Only 21 touches were made in the penalty area by the Belgians.
Belgium's touch map, via WhoScored.
Even when Kevin De Bruyne or Eden Hazard were free in open space and hit a shot, Hugo Lloris made the crucial save. Generally, though, Belgium's buildup in the attacking third was significantly lacking compared to France.
Expected goals – an advanced analytic used to determine the quality of a shot – backs up the latter claim.
xG map for #FRA–#BEL. Roberto Martinez tried his darnedest to open up the match, but France held firm, defended and defended and defended, and broke off just enough attacks for a solid win. pic.twitter.com/84HczC18Vn
— Caley Graphics (@Caley_graphics) July 10, 2018
Overall, it was a magnificent showing from France's defence, with Samuel Umtiti adding the exclamation point with his towering header in the 51st minute.
France's midfield trio
As strong as France's defence performed, N'Golo Kante, Paul Pogba and Blaise Matuidi were integral to the victory as well.
In the opening 30 minutes, Belgium's midfield of Axel Witsel, Marouane Fellaini and Mousa Dembele pressed France in the centre, won possession consistently and restarted their attacks.
Eventually, Kante, Pogba and Matuidi opted for a more direct approach when they had the ball in their defensive third. This led to some dangerous counter-attacks through Kylian Mbappe and Antoine Griezmann. Wasteful finishing was the only reason the match was scoreless at halftime.
Pogba and Kante were especially brilliant with their distribution inside their own half. Pogba ended up creating three quality chances for France, too.
In total, the French midfield completed a combined 15 ball recoveries and 12 tackles, ensuring that De Bruyne, Belgium's main playmaker, was held in check.
Eden Hazard
Even in defeat, Eden Hazard attempted everything possible to try and nick an equalizer for Belgium.
Hazard completed more attacking-third passes (26) and take-ons (10) while attempting two shots.
Unfortunately for Hazard, he just missed the target on two promising-looking attempts. He also wasn't aided by Belgium resorting to endless crosses in the final moments of the second half, either.
2018 World Cup coverage on Sportsnet
The FIFA World Cup in Russia runs from June 14 to July 15, and Sportsnet.ca will have in-depth daily coverage.
Daily news & feature stories
| Match schedule
| Group standings
| Team profiles
| History of the World Cup
| Scoreboard
LOSERS
Belgian midfield
It was an encouraging start for Belgium. They controlled possession, penetrated the French defence on a few occasions and appeared to have their southern neighbours …read more
Source:: Sportsnet
(Visited 11 times, 1 visits today)