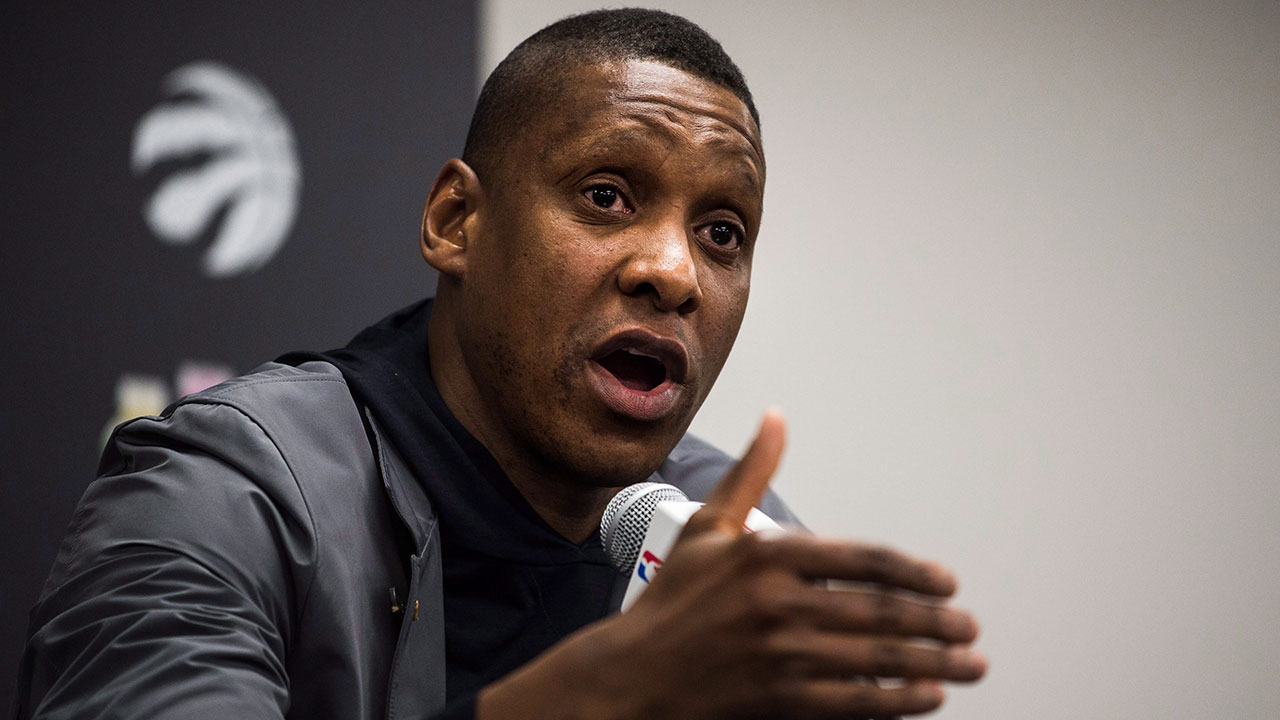 While plenty of people are having fun memeing and roasting Bryan Colangelo in the wake of the discovery that his wife had created a series of "burner" Twitter accounts in order to send out negative tweets directed at the Philadelphia 76ers and the NBA as a whole, Toronto Raptors president Masai Ujiri is taking a much more empathetic view of the entire debacle.
In an interview with The Athletic's Michael Scotto, Ujiri expressed sympathy for the mess Colangelo has found himself in and wants to see him land back on his feet.
"To me, my thoughts are with Bryan and his family, honestly," Ujiri said. "There's nothing said about me there, there was not one inch of it that made me think otherwise. He's a good friend of mine. I totally understand the situation, and I sympathize with Bryan.
"In my humble opinion, it was tough for me to see him lose his job. It was a mistake, and I've spoken to Bryan. We continue to speak continuously, and he's one of the better persons in this job, and my dream and my hope is a good person like that gets back in the game somewhere, somehow.
"Bryan Colangelo has 100 per cent of my support, and it's emotional for me because he's one of my mentors, he gave me a chance, and hopefully, he can be forgiven. Even though I don't know, I'm not sure of details, but I hope he's forgiven. We can all make mistakes."
Ujiri appears to be taking the high road on the entire matter despite the fact Colangelo's wife, Barbara Bottini, appeared to go after Ujiri under the anonymous Twitter handle "Eric Jr."
Bryan Colangelo calling Masai Ujiri a "trust fund baby" is pretty hilarious considering Colangelo's first NBA job was getting hired by his general manager father with the Suns and Ujiri's first NBA "job" was an unpaid scout following his role as a high school coach in Nigeria. pic.twitter.com/Ywfs2TjCkt
— Eric Fawcett (@Efawcett7) May 30, 2018
The understanding shown from Ujiri is likely because, as he told Scotto, he and Colangelo are friends. The disgraced executive, who was formerly the general manager of Toronto, first hired Ujiri away from the Denver Nuggets in 2007 to act as the Raptors' director of global scouting, and then promoted him to assistant GM in 2008.
It seems clear that Ujiri has no intention of burning that bridge that was first laid out to him by Colanagelo in the first place.
The same can be said of Ujiri's approach with former Raptors head coach Dwane Casey.
Despite firing Casey shortly after a second consecutive second-round sweep at the hands of LeBron James and the Cleveland Cavaliers, Ujiri has nothing but glowing things to say about Casey and the new opportunity in front of him in Detroit.
"It was one of the toughest things I said I've done," Ujiri told Scotto about his decision to let Casey go. "Casey is an unbelievable man. …read more
Source:: Sportsnet
(Visited 14 times, 1 visits today)