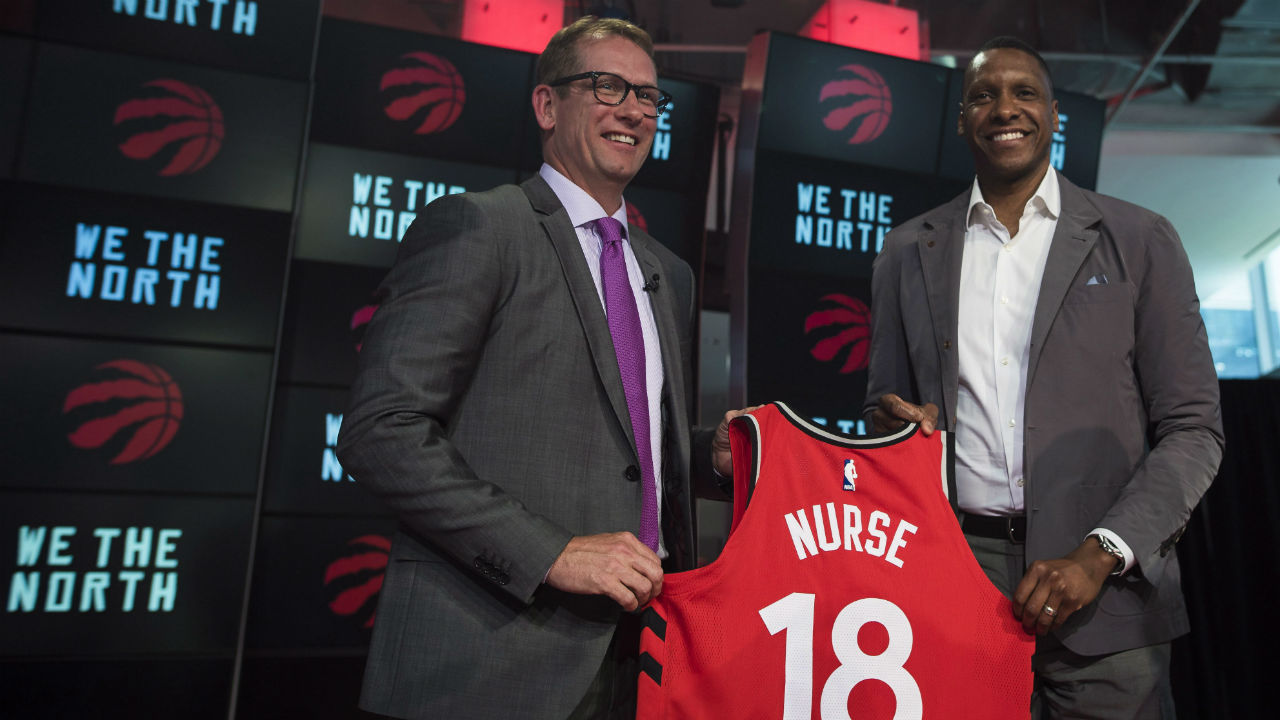 TORONTO — The Toronto Raptors officially introduced longtime assistant Nick Nurse as the franchise's new head coach Thursday.
Holding court with the media in a formal press conference for about 20 minutes and then spending more time with the team's regular scribes for 10-15 minutes, Nurse and Raptors president Masai Ujiri discussed — among other topics — adjustments Nurse plans to make, Ujiri being open to trades and even the story of how the two first met each other years ago in England.
Here's a breakdown of some of what Nurse and Ujiri said and what it could mean for the team moving forward:
Expect to see a fair bit of experimentation
If there's only one thing take away from Thursday's official introduction it's that Nurse isn't afraid of trying different things out. In fact, you should expect to see a fair bit of trial and error from Nurse on both sides of the ball.
"I think the leadership that I'm bringing and the coaching staff that we'll eventually hire, we've gotta be innovative, we've gotta be trying to think of what's coming next before it comes next if we want to stay ahead of the game," Nurse said.
"I think you're gonna see some different things. There's probably gonna be some uncomfortableness at times when we maybe try things that are maybe a little too far outside the box, but again, the season's a process. The Summer League leads to training camp, and the training camp leads to pre-season games, and the pre-season leads to regular.
"We wanna try some ideas and some things and try to put our guys in different positions, try some different combinations, et cetera, to prepare us for the playoffs, which is what matters."
Unlike with his predecessor, Dwane Casey, it appears Nurse is much more open to the idea of treating all the different play periods before the post-season as a means to consistently tweak, adjust and optimize.
"We think we know what our offence wants to look like and made a big change to everyone's credit. … We made a nice adjustment from moving the ball, our assist numbers went up," said Nurse when asked about specific changes he's looking to make.
"I just think there's a lot more creative ways being done right now and I think there's some creative things to do that we can figure out that we've kind of thrown out there that we can get our head around and polish up a little bit."
And while the idea of constantly testing does sound a little dicey, Nurse has the blessing of Ujiri, so it's not as if this is coming as a surprise to the Raptors' head honcho.
"He's very big on preparation, he's very big on trial and things that you try," Ujiri said of changes Nurse is looking to make. "Whether it's Summer League, whether it's pre-season, he's going to keep trying all those things to build on."
Nurse targeting head-coaching experience on his assistant staff
With Nurse promoted to head coach, Jerry Stackhouse …read more
Source:: Sportsnet
(Visited 25 times, 1 visits today)