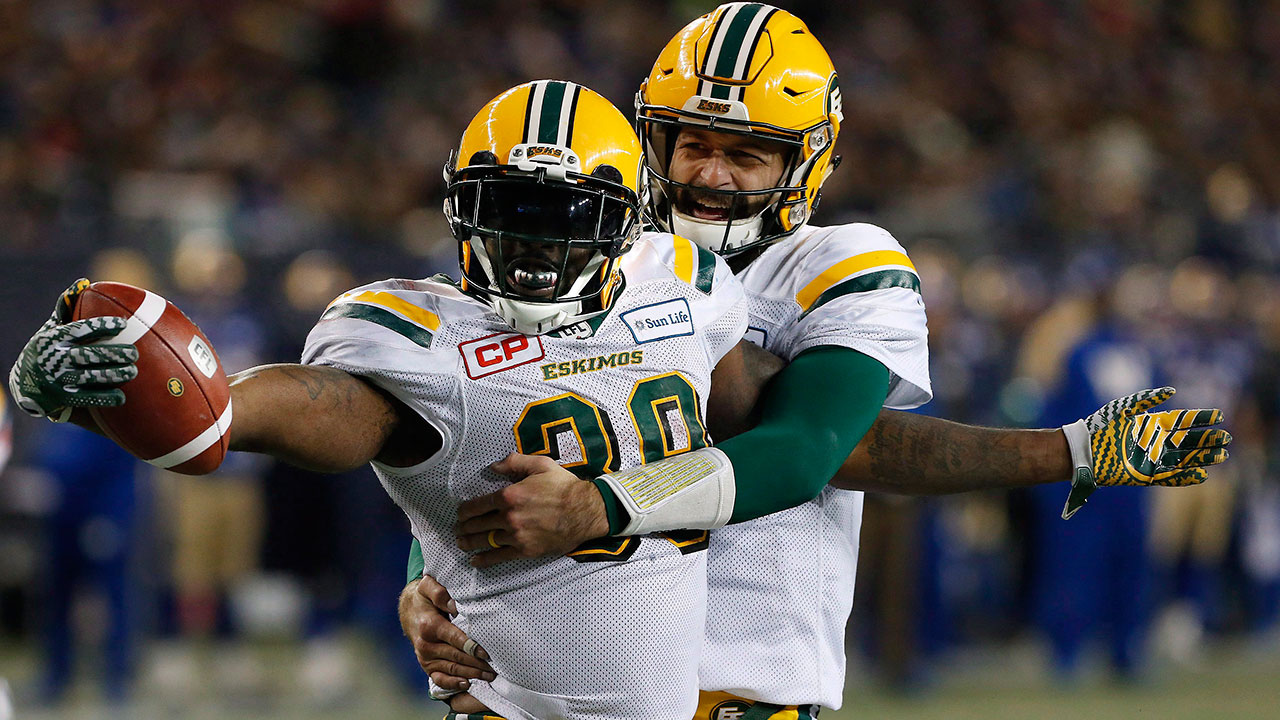 Pressure doesn't get much higher than what the Edmonton Eskimos face this year. They've got a formidable roster, they're coming off a disappointing ending to the season prior and they just happen to be hosting the Grey Cup.
Jason Maas is seeking redemption after his West Final faux pas, one that still irks Esks fans when they're reminded of what could have been.
There weren't too many high-profile off-season transactions from Edmonton this year, which indicates management was confident in what they already had. We'll soon find out whether or not it was the right strategy.
General Manager: Brock Sunderland
Head coach: Jason Maas
2017 Result: 12-6 record, third in the West, lost to Stampeders in West Final
Starting QB: Mike Reilly
Key Departures: Kenny Ladler, Brandon Zylstra, Adarius Bowman, Odell Willis, John White, James Franklin, Joel Figueroa, Simeon Rottier
Key Additions: Alex Bazzie, Kevin Glenn, Jake Ceresna, Kevin Palmer
Expected team strengths: The passing game. Obviously. Edmonton boasts the best QB in the league in defending MOP Mike Reilly and the success of this team runs through him and the offence. Reilly has averaged nearly 5,700 passing yards, 29 passing touchdown and double-digit rushing touchdowns over the past two years. Much of that can be attributed to the offensive line, one that allowed a league-low 29 sacks in 2017. GM Sunderland also added veteran Kevin Glenn, which is about as good a backup you can ask for in this league.
While the quarterback and O-line remain the offence's main strength, the receiving corps has a few question marks.
Brandon Zylstra led the CFL with 1,687 yards and it earned him a shot in the NFL's Minnesota Vikings. Good for him, not so great for the Esks. Longtime fan favourite Adarius Bowman is with the Blue Bombers as well, which makes Derel Walker's role as the go-to receiver all the more important. The speedy Vidal Hazelton and rookie slotback D'haquille Williams might end up being the top options behind Walker. Despite all the changes, Reilly likes what he has to work with.
"Over the last couple of years we have really tried to spread the ball around," Reilly said. "That's a more effective way to play. We always want to try to be as balanced as we can. With the group of wide receivers we have now I believe we are the most balanced that we have been at all positions. No matter who is out there we are going to have the weapons that the defence is really going to have to worry about."
Expected team weakness: The linebacking corps is somewhat suspect. With Kenny Ladler going to the NFL, the 86 tackles he registered last year are going to be hard to replace. It means outside linebackers Adam Konar and CFL sophomore Chris Edwards need to take their games to a new level. J.C. Sherritt is back in the middle after recovering from a torn Achilles tendon but will he have the …read more
Source:: Sportsnet
(Visited 3 times, 1 visits today)