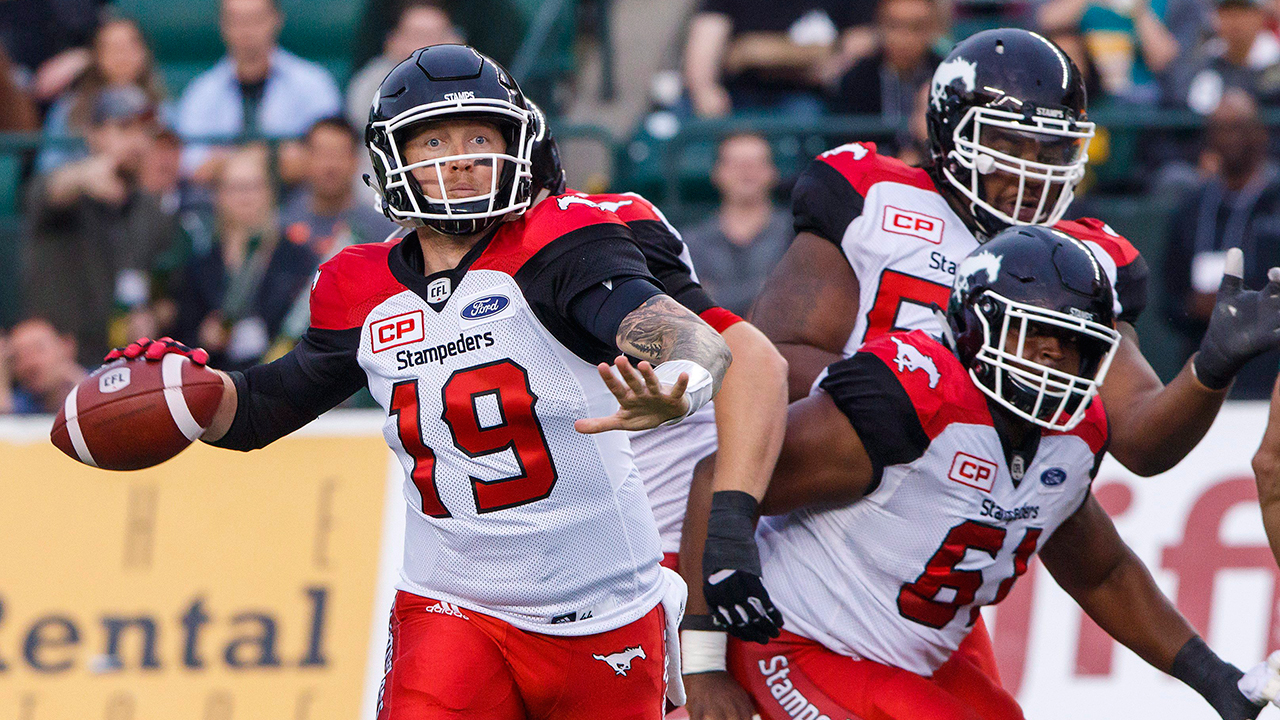 The Calgary Stampeders have been the CFL's top team in each of the past two regular seasons, compiling a 28-6-2 record over that span. However, they've gone 0-2 in Grey Cup games during that time and that's all anyone remembers.
It will be odd seeing this team without the likes of Charleston Hughes and Jerome Messam, both of whom were integral to the success of recent Stamps squads, but they are no longer around as the Stampeders made an effort to get a bit younger.
This team remains talented enough to win it all, yet being impressive on paper, putting it all together and peaking in the playoffs isn't something the Stamps have been able to do since 2014.
General Manager: John Hufnagel
Head coach: Dave Dickenson
2017 Result: 13-4-1, first place in West, lost to Argos in Grey Cup
Starting QB: Bo Levi Mitchell
Key Departures: Jerome Messam, Charleston Hughes, Tommie Campbell, Anthony Parker, Josh Bell, Marquay McDaniel, Rob Cote, Randy Colling
Key Additions: Emanuel Davis, Adam Berger, Ese Mrabure, Derek Dennis, Eric Rogers
Expected team strengths: Defence. There are a few questions on offence and special teams but the defence appears strong once again. Alex Singleton is as good as it gets at linebacker, Emanuel Davis joins Ciante Evans in an intimidating secondary, and even though a leader like Hughes is gone, the defensive line led by standout Micah Johnson should be a nightmare for opposing teams.
Expected team weakness: Chemistry on offence will be something to watch early on after an off-season that had a decent amount of roster turnover. Reigning CFL rushing leader Messam is gone and 2017 special teams player of the year Roy Finch is out of the picture as he deals with legal issues.
This puts plenty of pressure on Terry Williams, who's likely to be the starting running back and could also serve as the team's top returner. Mark Kilam has been an excellent special teams coordinator with Calgary for years so fans shouldn't worry too much about this area—especially considering kicker Rene Paredes is still going strong—but Finch was a game-breaker and someone, Williams or otherwise, is going to have to step up.
Longtime Stamps wideouts Marquay McDaniel and Anthony Parker are also gone but the return of receiver Eric Rogers gives Mitchell a familiar face to look at.
2018 Schedule Quirk: Playing 18 games in 21 weeks means each team gets three bye weeks and for Calgary those occur Week 5, Week 9 and Week 12. The Stamps have more five-day weeks than they did in 2017 and that's not something the Stamps coach is looking forward to.
"I'm not in favour of that because I'm a schedule guy," Dickenson recently told Sportsnet 960 The Fan. "I think maybe the players feel [more days off in between games is] the way to maybe keep their bodies right. The five days in between games is what's really, really tough on guys. It just didn't work out in …read more
Source:: Sportsnet
(Visited 20 times, 1 visits today)