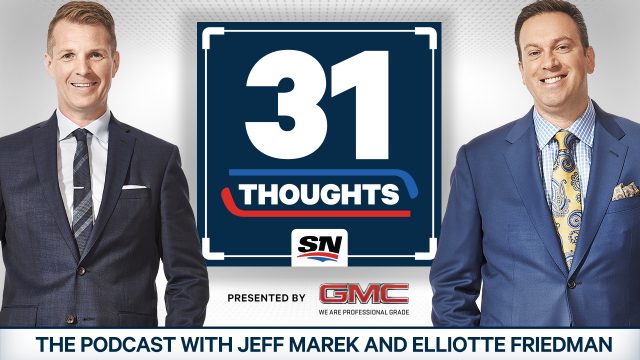 I don't have much of a rooting interest for one team over another, but, watching the hilarious videos of the Capitals storming through Washington serves as a vivid reminder of something I wish to witness — a Canadian Stanley Cup victory.
Never covered one, so I don't care which team it is. Just want to see the celebration, and how it compares to this.
The ringleader is Alex Ovechkin, the captain and Conn Smythe Trophy winner.
Prior to this victory, with all of the debate about his legacy, it was easy to forget Ovechkin's popularity at the beginning of his career. He was Washington's leading scorer by almost 50 points, he beat out Sidney Crosby for the Calder Trophy and, even though English was not his first language, he threw himself into interviews as best he could. He was not afraid, on the ice or off.
It took one informal skate for Olaf Kolzig to proclaim Ovechkin the real deal. Kolzig was notoriously careful with praise for young players, but this was something special.
"We didn't have a lot of big names," said Jeff Halpern, the captain in that 2005-06 season. "We were journeymen … good players, but nothing at his level. We were basically eliminated from the playoffs in October, but he gave us a little bit of hope, a belief the team would move in the right direction."
Halpern was injured, but on the trip when Ovechkin scored the signature goal of his rookie season — a twisting, falling, blind backhand past Arizona's Brian Boucher.
"We were in Anaheim the game before, and he had a hat trick to beat the Ducks," the 976-game NHLer recalled with a laugh. "We had a couple days off, so we asked the coaches for a bit of a longer rope. We were going to have our rookie dinner. That year, Brendan Witt was at the end of his contract. The whole night, whenever he tried to talk, we drowned him out with 'one more year.' He couldn't even speak."
"When Ovie scored that goal, Witt was on the ice. When they huddled up, I heard Ovie yelled 'one more year' at him. That was [Ovechkin]. He just wanted to fit in and be part of the group."
After the season, worried their star wouldn't say no to any request, the organization dialled it back. When a young player gets that much attention, there can be jealousy, but that first year, it wasn't a problem.
"Michael Farber [from Sports Illustrated] came to do a story on him, and interviewed Halpern for awhile," said Nate Ewell, who handled day-to-day media relations from 2005-2011. "After it was over, I asked Jeff, 'Is it too much?' He replied, 'Absolutely not. He's way better than anyone and he deserves it.'"
Everybody's got an opinion on when it started to change. Was it the 2009 loss to Pittsburgh? The 2010 Olympic crushing in Canada? Sochi 2014? Pittsburgh 2017? The fire stick? You name it, someone's got a theory. When you're the star, and you make …read more
Source:: Sportsnet
(Visited 27 times, 1 visits today)