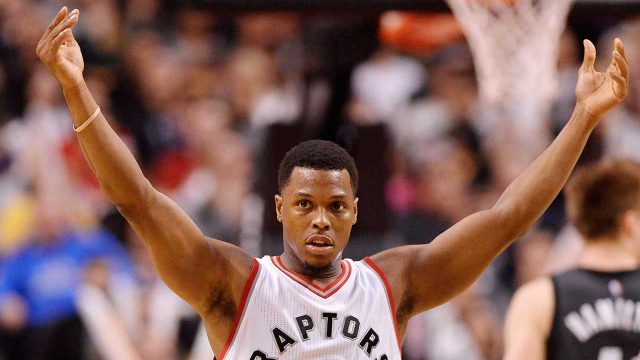 TORONTO — Serge Ibaka had barely played alongside Kyle Lowry when the Toronto Raptors opened the playoffs last season.
The big man was acquired at the trade deadline, and played the final 23 games of the regular season for Toronto. But Lowry was out with a hand injury and didn't rejoin the team until four games before the playoffs tipped off.
The Raptors had envisioned Ibaka helping them past LeBron James and the Cavaliers, but with little time to jell, it just didn't happen.
"It was more difficult than we thought especially when pressure hit," coach Dwane Casey said. "When you don't know the nuances or know each other well, it's more difficult in those situations. We had to simplify some things last year just because of P.J. (Tucker) and Serge coming in … I probably didn't do a good job of integrating them in quick enough."
Toronto Raptors on Sportsnet NOW
Live stream 41 Toronto Raptors games, over 100 other marquee NBA matchups, plus select playoffs and NBA Finals games.
LEARN MORE
Ibaka, acquired for his defensive toughness and solid shooting, averaged 14.3 points and 6.5 rebounds in Toronto's 10 playoff games, but the Raptors were swept in the second round by Cleveland.
This season is a "different story," Casey said. Ibaka had the benefit of training camp and a full season with the Raptors, and on Saturday, he had a team-high 23 points and 12 rebounds in Toronto's Game 1 victory over Washington.
"Last year, I didn't really have time to work with the team, with the guys, but now we know each other," Ibaka said. "Kyle, he knows where I like to go. DeMar (DeRozan), he knows what I like to do. I know what Kyle and DeMar like to do now. When I play with (Jonas Valanciunas) in the paint, we understand each other more now. It feels more normal now."
Ibaka post-game press conference Saturday was almost as impressive as his game. The Congolese player answered questions in English, French and Spanish without missing a beat.
When asked Monday if Ibaka is a decent talker on defence, Casey replied: "In what language?"
"He sees things. He's talking. He's out there on the court giving guys advice. He's unbelievable from that standpoint," Casey added.
The coach hopes to capitalize on Ibaka's playoff experience. He's played in 100 post-season games, 89 of them with Oklahoma City.
"That right there… just the experience of being around a guy like (Russell) Westbrook and (James) Harden and all those guys, (Kevin) Durant, special situations, you can't put a dollar value on that. That's invaluable," Casey said. "And you cant give it to anybody. You gotta go through that.
"He's been through …read more
Source:: Sportsnet.ca
(Visited 13 times, 1 visits today)