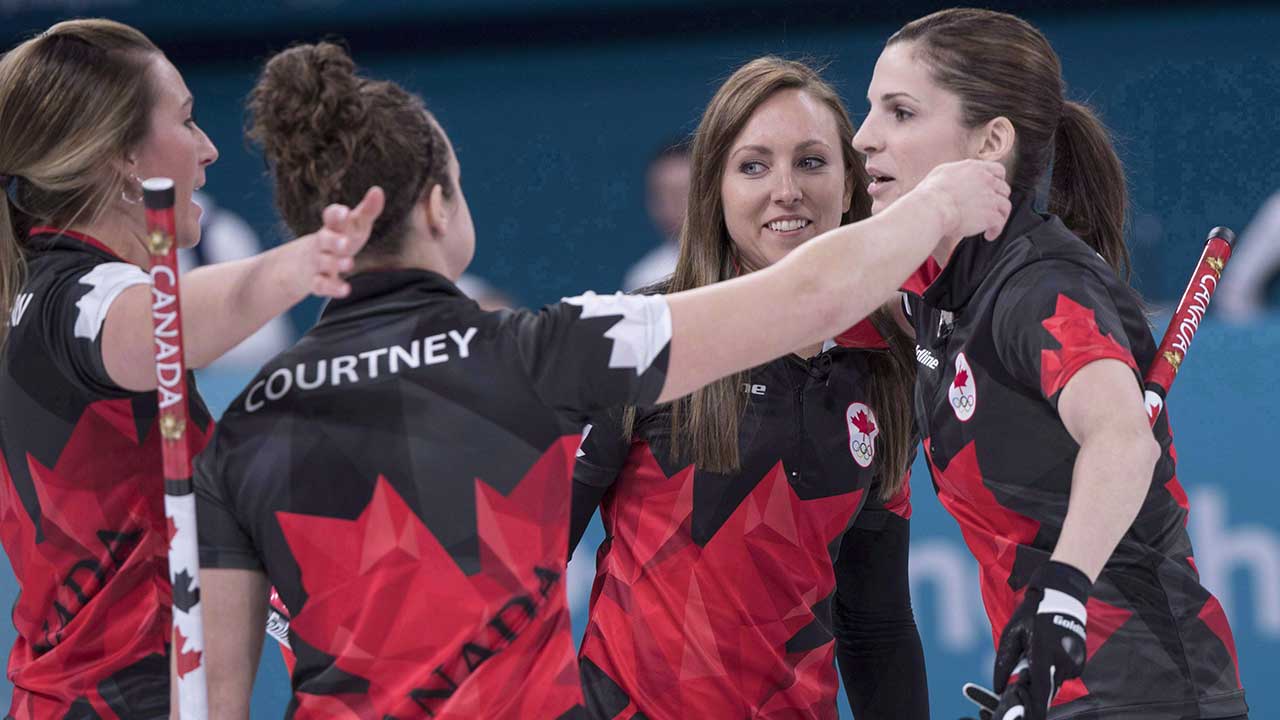 After taking some time off following a disappointing performance at the Pyeongchang Games, the members of Team Homan recently got together at a Toronto hotel to discuss their future plans.
They decided they will continue to curl together as a foursome.
"We had a really good meeting and we're feeling really optimistic for the future," said lead Lisa Weagle.
Skip Rachel Homan, third Emma Miskew, second Joanne Courtney and Weagle were hoping for big things in South Korea after capping a dominant 2017 calendar year by winning the Olympic Trials in Ottawa.
They had also won the Scotties Tournament of Hearts for a third time and ran the table en route to their first world title last year.
However, they never really got on track in their first appearance at the Winter Games and settled for a sixth-place finish.
"After the Olympics, we all took some time to recover," Weagle told The Canadian Press from Ottawa. "A few of us went away and just did our own thing so that we could recharge and come back excited about curling.
"It was definitely a very emotional experience being at the Olympics and we obviously didn't get the result that we wanted. But I think we're still driven to keep curling and to accomplish more."
Several elite curling teams have announced lineup changes for the upcoming quadrennial ahead of the 2022 Beijing Games. Teams skipped by Jennifer Jones, Kevin Koe, Chelsea Carey and John Epping — to name just a few — will have new-look rosters next season.
Team Homan stayed quiet as other squads made their announcements. Homan, Miskew, Courtney and Weagle did casually chat about the future before eventually finalizing plans at their meeting.
"Obviously another Olympic run would be the ultimate goal but there's a lot of Slams and Scotties and worlds in the leadup to that time," Weagle said. "I think we want to just keep pushing the boundaries and keep pushing ourselves and win as much as we can."
The Ottawa team won its first national crown in 2013 with Alison Kreviazuk at second. A successful title defence came the next year before Kreviazuk left.
She was replaced by Courtney, arguably the most powerful sweeper in the women's game. The team won the Canada Cup in 2015 to secure the first available berth in the Olympic Trials.
Homan and her crew were in strong form at Canadian Tire Centre last December. The 29-year-old skip guided the team to victory over Carey in the final to secure the Olympic spot.
"We've been together with this lineup for four years and it's been an amazing four years," Weagle said. "We've had some really incredible accomplishments: going to the Olympics, winning the worlds, winning the Scotties and Grand …read more
Source:: Sportsnet.ca
(Visited 8 times, 1 visits today)