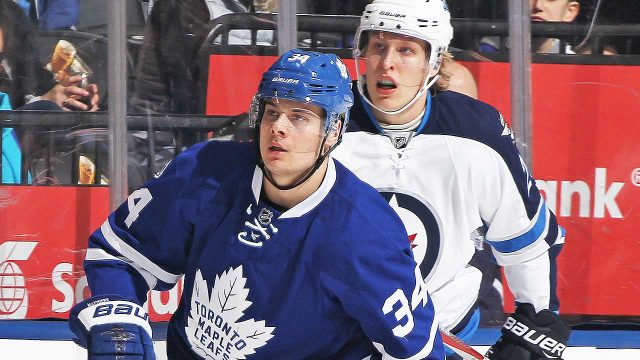 ST. PAUL — The news out of Tuesday's morning skates revolved around defenceman Tyler Myers' exit from this series. He was reportedly spotted at the airport heading home to Winnipeg on Monday after getting tangled up with Marcus Foligno in Game 3.
Tucker Poolman, who hails from nearby East Grand Forks, Minn., will make his playoff debut tonight on the Jets third pairing next to Ben Chiarot. It is trial by fire for the University of North Dakota grad, who only has 24 NHL games on his resume — none of them in the post-season. "It's exciting. Kind of like college, and the playoff games (with UND). Or playing your first game. At the end of the day it's still hockey, and you go out and do your job."
We ran into Poolman at the annual rookie tournament in Penticton, B.C., this season, and he's a heck of a story in perseverance. He went undrafted at age 18, again at age 19, and the Jets finally picked him in the fifth round as a 20-year-old.
In September he was in Penticton with a bunch of 18-year-old prospects. Tonight he'll be on the blue line at the Xcel Energy Center, playing in the biggest pro game of his life.
Stanley Cup Playoffs on Sportsnet NOW
Livestream every single game of the 2018 Stanley Cup Playoffs—blackout free—plus the Toronto Blue Jays, key Raptors & NBA Playoffs matchups and the 100th Mastercard Memorial Cup, all in one subscription.
SIGN UP
"I've always tried to prepare myself for situations like this, so when they happen you try to be a good player out there. I always try and prepare like I'm going to play for something big," the 24-year-old, late bloomer said. "I think it's good to get nervous for games. It's just like any other playoff game I've been in.
"You just have to get your feet under you quick. Give a hit, take a hit. Just hop into the game like always."
Head coach Paul Maurice expects some nerves. It's only natural.
"We've had (a lot of) young players that have come into the playoffs, either their first game or inserted into the lineup, bring a set of nerves with them," Maurice said. "It's a gate they have to pass through to get to play regularly in playoffs, in the NHL, and they've all done well. So, any kids that come in we expect that from them."
The Jets also called up Sami Niku from their farm team, the Manitoba Moose, with Myers, Dmitry Kulikov and Toby Enstrom all injured. It's a stern test of the Jets' depth, using D-men No. 7, 8 and 9 in Game 4 tonight.
The standard of officiating shifted in Game 3. You could see the NHL zebras had been told to crack down on slashing fouls, and to crack down on post-whistle scrums.
"Even around the league, you look …read more
Source:: Sportsnet.ca
(Visited 7 times, 1 visits today)