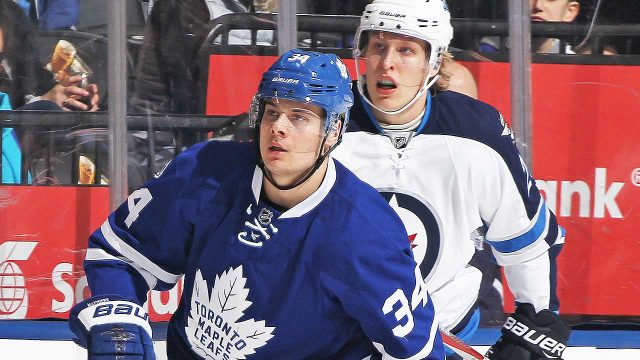 ST. PAUL — It was, Paul Maurice admits, an "easy pull."
Connor Hellebuyck had let six pucks whiz past him in 40 minutes of action, the game was irretrievable, and the backup could use the work. Plus, he's a rookie. It's always easier to be the head coach when the goalie you're benching is as young and quiet as is Hellebuyck.
When he was a younger head coach in Carolina, Maurice admits, "I didn't want to pull Tom Barrasso, more out of physical fear. That was a consideration. Arturs Irbe would scowl at you a lot and he wouldn't be very happy."
How will Hellebuyck react to the first playoff loss — and playoff hook — of his NHL career?
"Just forget about it," Hellebuyck said Monday, the day before he'll jump back on the horse in Game 4. "I've had good goalie coaches in the past that have really helped me not make that a problem. But I've said this before: I watch myself non-stop. I am in every single position when I'm watching because I watch film of myself. I am IN when they score and also when I'm making saves, so I know what to expect out of myself.
"I'm not going to let a goal here or there deter what I expect out of myself every day."
Stanley Cup Playoffs on Sportsnet NOW
Livestream every single game of the 2018 Stanley Cup Playoffs—blackout free—plus the Toronto Blue Jays, key Raptors & NBA Playoffs matchups and the 100th Mastercard Memorial Cup, all in one subscription.
SIGN UP
At times like this refer back to Hall of Fame goalie Grant Fuhr, whose finest qualities were: A – always taking the blame for a goal, no matter how unstoppable; and B – only worrying about the next shot — never, ever the last shot.
On the other side of this series sits Devan Dubnyk, whose night began in Game 3 with a bouncing, deflected Blake Wheeler pass that groaned across the goal line for a 1-0 Jets lead on Winnipeg's first (cough) shot on goal of the evening. Dubnyk would stop 29 of the remaining 30 shots for the win, completely unaffected by a start that might give a lesser goalie the heebie jeebies.
He is the coolest cucumber in hockey, Dubnyk, with stats that denote him as a Top 3 netminder in the entire NHL over the past four seasons — if wins, goals against average, save percentage and shutouts suffice as evidence. Every goalie can fall victim to a playoff stinker — it's how you deal with it that counts.
"My approach to the game is a relaxed approach," said Dubnyk, who talks at length on game days with reporters, where other more uptight goalies refuse. "And I approach it, come game time, the same way. Go out there, have fun, stay relaxed."
You're getting the theme here, right? Goalies have to be chilled.
We're used to goalies being different. Even weird. But nervous doesn't work for anyone.
"You've got to make the …read more
Source:: Sportsnet.ca
(Visited 29 times, 1 visits today)