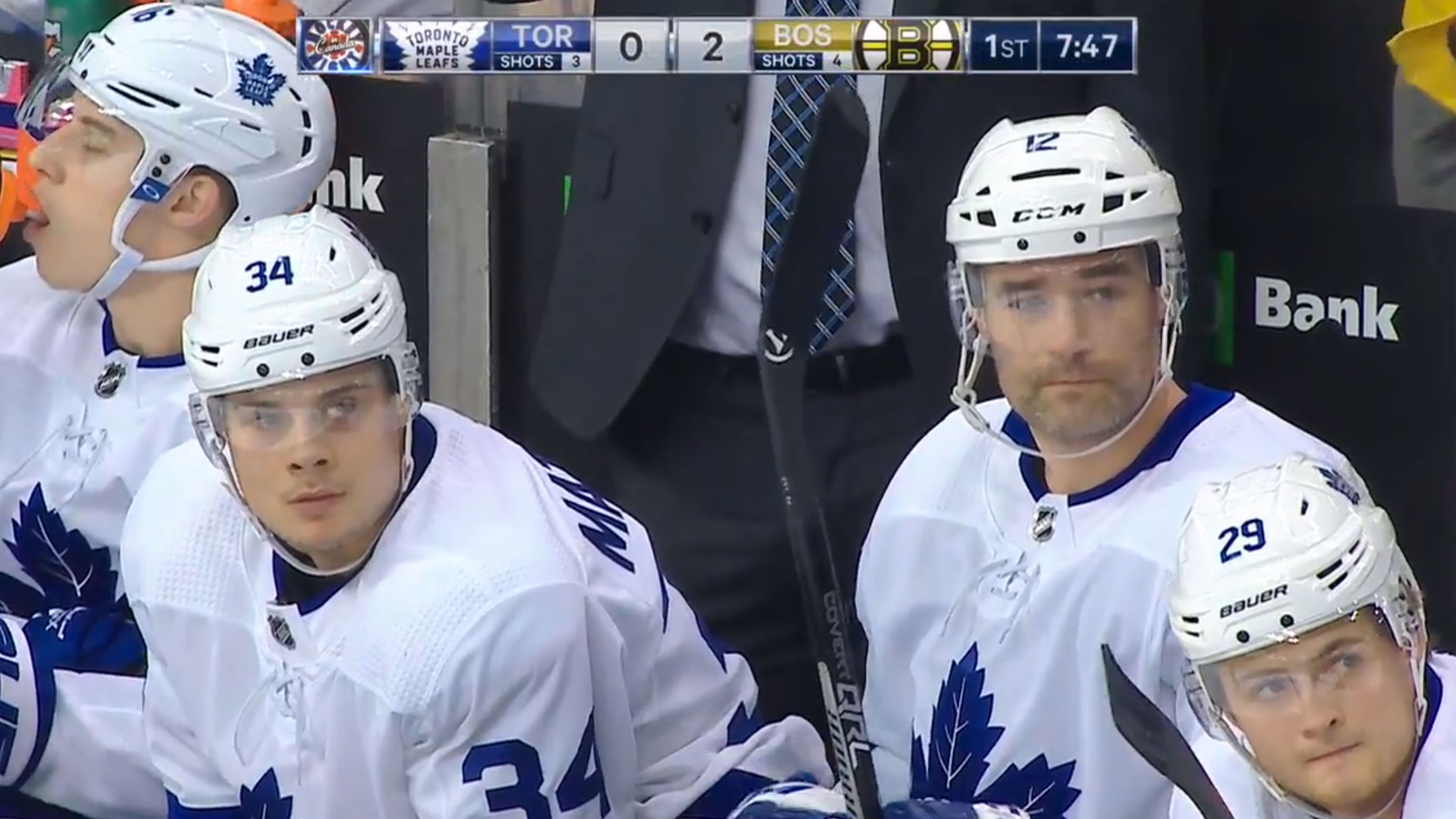 When the roof started to cave in, the cameras cut to a shot of Auston Matthews on the Toronto Maple Leafs bench. He kept a stoic expression that belied any of the understandable frustration bubbling up inside.
All the face of the Leafs franchise could really do was watch while Saturday's game slipped from grasp.
He had his own opportunities on the ice, of course, playing more minutes than any other Toronto forward. A review of his 25 shifts from Game 2 showed that he handled them quite well. Matthews had the puck on his stick a lot. He came out on the winning end of an early battle with Patrice Bergeron and intercepted a David Pastrnak cross-seam pass in the defensive zone.
The Leafs rolled around in the Boston end for most of his first six trips over the boards. And they were still trailing 3-0 after 12 minutes. Things didn't go so well when Matthews needed a breather.
Auston Matthews and the Maple Leafs watch from the bench as the Boston Bruins score their third goal of Game 2.
That's why he said "S––– happens, I guess, so … it's hockey" when asked about the 20 points put up by Bergeron's line through two games, compared with the bagel for his own. Despite failing to smash through the Chara–McAvoy wall and put a puck behind Tuukka Rask, he was a disruptive force in Game 2 while spending time working between six different wingers.
His pointed post-game response was a sign of process-driven thinking.
"Got to rebound for Game 3," Matthews added.
It has been a difficult season for the 20-year-old centre—perhaps never more difficult than right now at this moment. The three injury absences tested his patience and taxed his body. A completely unsheltered workload saw him challenged with higher-stress situations more frequently than in his rookie year.
That made for some tough nights to push through, like the Dec. 19 visit to Pittsburgh where Sidney Crosby kept his line to zero even-strength shot attempts. Or the elaborate game of keep-away Jonathan Toews orchestrated inside the United Center on Jan. 24.
"Jonathan Toews had the puck the whole time in the first 30 minutes," Babcock said then. "Obviously, he's a veteran player, and Matthews is a good player, but Toews knows how to play. It takes you a while to learn how to play in this league—to play right and face the puck and get used to playing against good players."
The pot of gold at the end of those lessons and time spent on the trainer's table was supposed to be the playoffs. And it may yet be, although you'd have to think Matthews and the Maple Leafs absolutely need a victory at the Air Canada Centre on Monday to slow this Bruins freight train.
Fantasy Hockey Pool
Play the Sportsnet Fantasy Hockey Pool for your chance to score big with over $22,000 …read more
Source:: Sportsnet.ca
(Visited 7 times, 1 visits today)