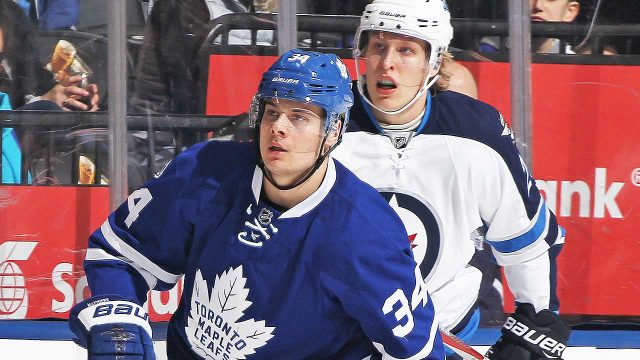 You should be in this for the long-term if you're a Toronto Maple Leafs fan, which means there is nothing at all to be gained from making sweeping judgments about this 2-0 series deficit to the Boston Bruins. Or being swept or, for that matter, coming back to win the thing.
The Leafs might not be ready to face the Bruins in a playoff series. And you know what? That's OK. It really is.
Hear me out.
Regular-season success is more an indication of how far this Leafs development has advanced. There will be plenty of time to fuss about playoff success. And advance the Maple Leafs did, setting club records for points and home wins despite losing Auston Matthews for chunks of time and in the process accomplishing maybe the most remarkable transformation in Toronto sports history: somehow turning the Air Canada Centre into a Raptors-like bastion despite its crowds being as dozy as the Raptors' are electric and engaged. The Leafs accomplished more during 82 games than they could ever lose or gain in the playoffs, barring, of course, a Stanley Cup, and if you'll allow yourself a sober second thought you'll agree.
Stanley Cup Playoffs on Sportsnet NOW
Livestream every single game of the 2018 Stanley Cup Playoffs—blackout free—plus the Toronto Blue Jays, key Raptors & NBA Playoffs matchups and the 100th Mastercard Memorial Cup, all in one subscription.
SIGN UP
Look, it is understandable that there would be a sense of foreboding given what has happened with the Edmonton Oilers, a franchise that has given rebuilding a bad name. But – and how can we put this politely? – there is no evidence that Leafs management or ownership are as clueless as the Oilers. Far from it. Unless the Leafs start hiring anybody who has worn the uniform as "advisors," that's of no concern.
Mike Babcock hasn't forgotten how to coach, despite what Antonio from Stoney Creek told me last week. He matched lines all season long. Nazem Kadri hasn't undone the considerable good of the regular season by one rush of blood to the head. Frederik Andersen's the Leafs best goaltender since Eddie Belfour and will be next season, too. News flash: the Leafs still need a No. 1 defenceman … as they did at the start of the season. If anything has been revealed this week, it is that affirmation. James van Riemsdyk and Tyler Bozak will be gone via free agency and an effective nastiness upgrade is needed over the likes of Leo Komarov and Matt Martin, which, well, you already knew, right?
Take a step back. Take a deep breath. That doesn't change if the Leafs lose this series in four, five or six or if they win it. None of it does. Not one iota. We are still in accumulation phase with this group … and not all …read more
Source:: Sportsnet.ca
(Visited 7 times, 1 visits today)