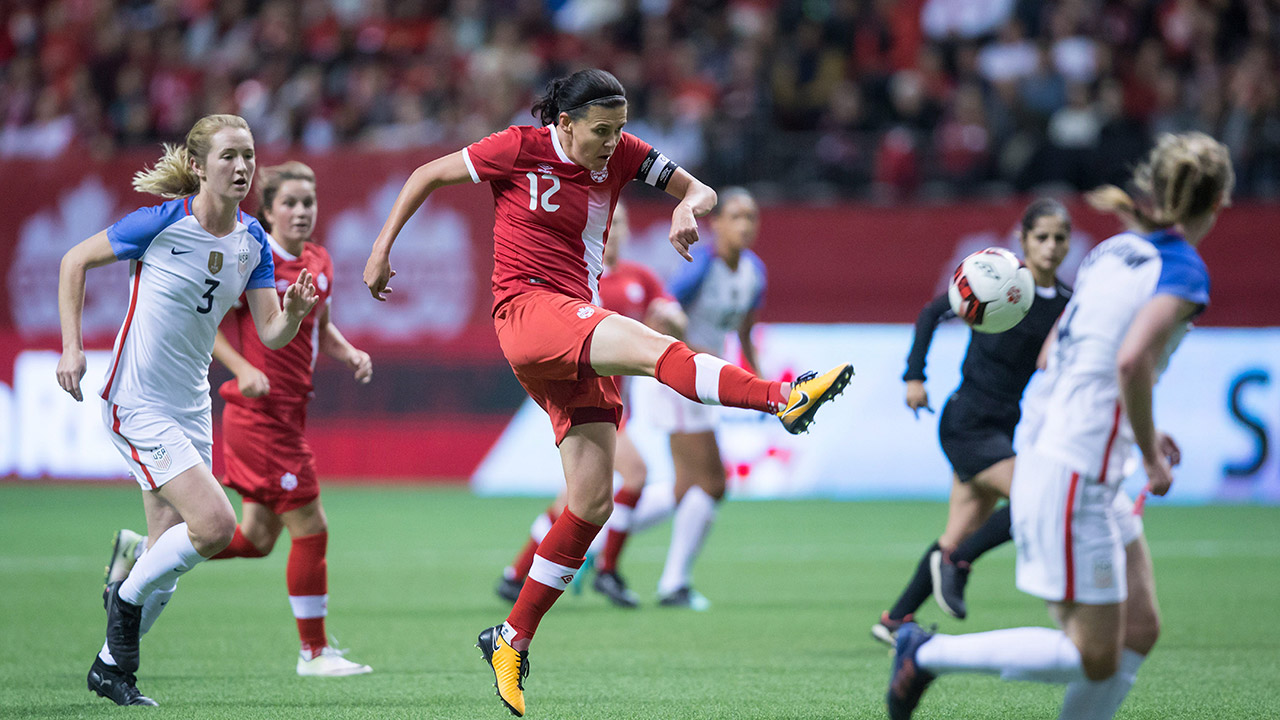 Christine Sinclair is not slowing down with age.
The iconic Canadian forward is just as passionate about playing for her country now, at age 34, as she was when she made her national team debut as a 16-year-old.
This past week's friendly against France in Rennes, a 1-0 loss, was Sinclair's 267th career cap. She'll no doubt add to that record number of appearances in the buildup to next summer's FIFA Women's World Cup to be held in France.
Sportsnet recently chatted with Sinclair about the departure of John Herdman, new Canadian coach Kenneth Heiner-Møller, the future of the women's team, and Canada's bid to co-host the 2026 FIFA World Cup with the United States and Mexico.
SN: There seems to be genuine youth movement within the Canadian women's senior team. The average age of the roster for the game against France was 25.83 years. There were three teenagers on the squad (Julia Grosso, Jordyn Huitema and Deanne Rose), while Jessie Fleming only turned 20 last month. How does having so many youngsters involved at this point bode for future of the senior team?
Sinclair: It bodes well not only for the future, but also for the present. Our youngsters are pretty experienced. … You talk about Deanne, she's a teenager who already has an Olympic bronze medal, which is pretty cool. [laughs] The fact you see so many youngsters coming in … it's one thing, I think, that John [Herdman] did a very good job with – creating that steady pipeline of youth players coming into the senior team and succeeding here.
SN: What's been your early impressions of new coach Kenneth Heiner-Møller?
Sinclair: He's been incredible. Obviously, we know him very well because he was previously John's assistant coach, and basically the whole staff has remained intact, so it hasn't been that much of a transition. Most times when you get a new coach, they bring in a new staff as well, and that hasn't been the case. You just see his passion and enthusiasm … he's a different type of coach from John, for sure, but as a team we love it so far.
SN: I recently spoke to Kenneth, and he said he doesn't believe in a strong hierarchy; that even though he is the coach he likes to involve players and the rest of the staff in a lot of his decisions. Do you find that's been the case?
Sinclair: He's a player's coach in the sense that he played the game at a high level, and he understands that sometimes on the field players feel things and see things that coaches might not see. He's constantly asking for feedback, during the course of training and during the course of game, about what we're seeing and if we need to change anything. As players, we're learning how to work with that and that's our biggest growth opportunity, I think.
SN: John Herdman's move to the men's side and Kenneth's appointment as his replacement back in January caught a lot of people …read more
Source:: Sportsnet.ca
(Visited 6 times, 1 visits today)