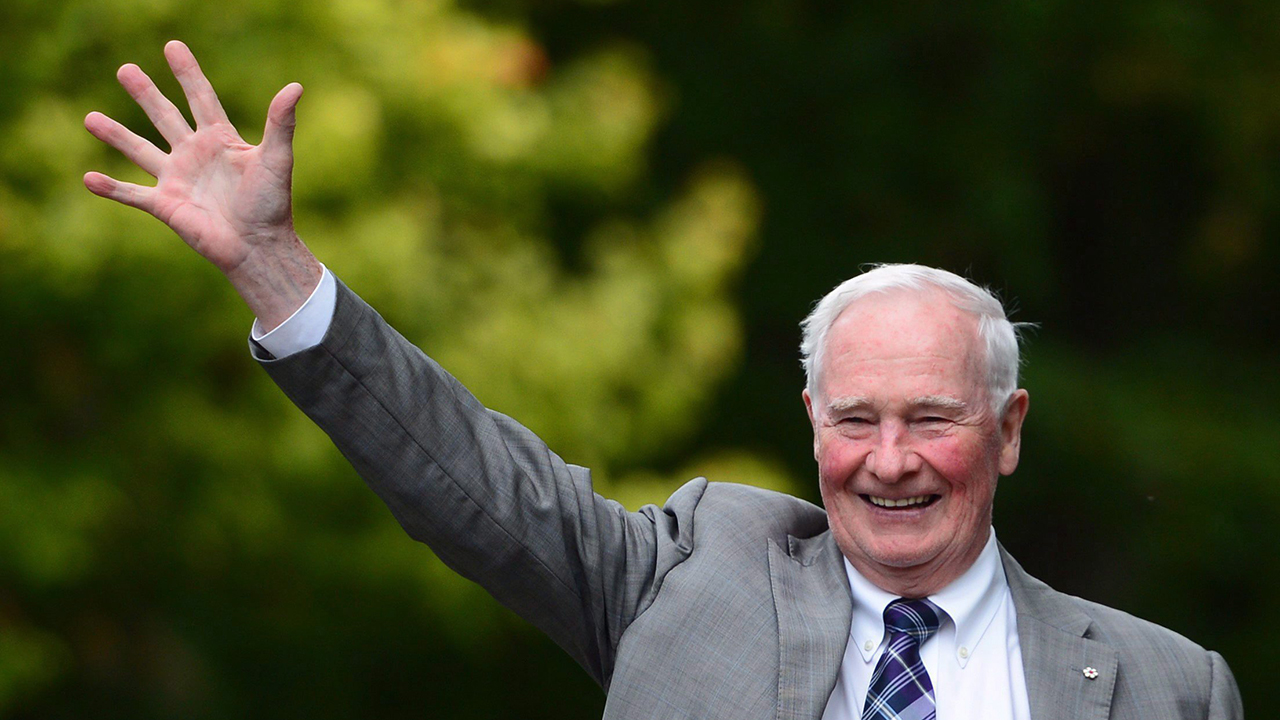 TORONTO — David Johnston is now part of a select group of former Canadian governors general honoured at the highest levels of sport.
U Sports, Canadian university athletics' governing body, announced Tuesday its men's hockey trophy is being renamed the David Johnston University Cup in honour of Canada's 28th governor general. The hardware had been referred to as simply the University Cup.
The NHL's Stanley Cup, CFL's Grey Cup and CWHL's Clarkson Cup are among other championship trophies named for a former governor general.
"What an honour," Johnston said at a news conference. "It's especially exciting for me to connect this with the office of the governor general.
"We've had quite a connection to sport going back Lord Dufferin in 1871, Lord Stanley, Lord Grey, Lady Byng and Madame (Adrienne) Clarkson. It's wonderful to see that continue."
Ron MacLean, the host of Hockey Night in Canada, served as the master of ceremonies.
The 2018 U Sports men's hockey championship tournament begins Thursday in Fredericton.
Johnston, 76, a native of Copper Cliff, Ont., was an accomplished hockey player growing up in Sault Ste. Marie, Ont., playing with such future NHL stars as Tony and Phil Esposito and Lou Nanne. He was also the team captain at Harvard and earned All-American honours twice while completing his Bachelor of Arts degree.
It was upon graduating from Harvard that Johnston opted to concentrate more on academics than hockey. It's a decision he doesn't regret at all.
"It would've been tough if we'd had the 30-team NHL but there were only six teams when I graduated in 1963," Johnson said. "Our coach, Cooney Weiland, had coached the Boston Bruins (1939-41, winning Stanley Cup in '41) and knew the team well.
"The chances of making an NHL team as a 150-pound defenceman were not very good. I would've gone, had I been signed, to the Providence Reds team and gone to night law school at the University of Rhode Island and probably not done a very good job of either and (Weiland) said, 'You've got a scholarship to Cambridge and maybe that might be a nice place to be.' So that's where I went."
Johnson took over as Canada's governor general in 2010 from Michaelle Jean and served in that capacity until succeeded by Julie Payette in 2017.
Graham Brown, the chief executive officer of U Sports, said his organization couldn't have found a more deserving name to add to its championship hockey trophy.
"It's not just about having a former governor general, it's that we have this governor general," Brown said. "He epitomizes, in my opinion, university sport.
"I think it was fortuitous, or fate, that that trophy, and we have 157 trophies spread all over the country, did not have a name …read more
Source:: Sportsnet.ca
(Visited 5 times, 1 visits today)