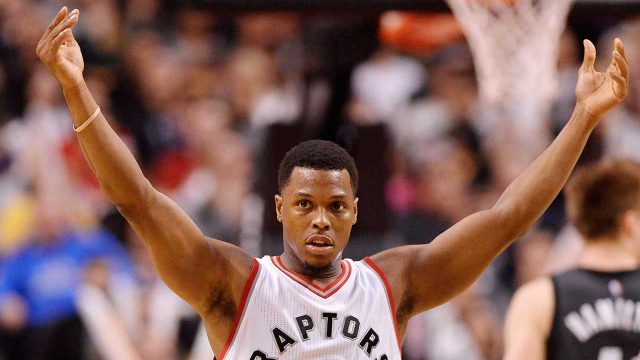 Paul Pierce still doesn't think the Toronto Raptors have the "it" factor.
Despite them having won eight straight and 15 of their last 16 – including a signature victory against the Houston Rockets – while holding the top spot in the Eastern Conference with a 3.5-game lead over the Boston Celtics, the recently retired NBA champion and 10-time all-star still isn't ready to buy into Toronto's chances at making the Finals.
"It'll be hard for me to see them beating Cleveland in a seven-game series – or even Boston, for that matter. I mean, I know that they have a great backcourt: DeMar [DeRozan] and, of course, Kyle Lowry. But it's just the past," Pierce said Saturday during an ESPN broadcast. "I go off what I've seen. I've seen them have successful regular seasons and then, when the playoffs start, they get upset, you know: à la Paul Pierce in Brooklyn, à la Paul Pierce in Washington."
Smug, self-aggrandizing comments aside, he isn't exactly wrong.
Although this has been the most successful era in Raptors history, the team hasn't exactly looked like world-beaters in the post-season. Only once in franchise history has Toronto won a playoff series that didn't have to go the distance, and that was last year in the first round against a Milwaukee Bucks team that took the Raptors to six games and made them look unimpressive in the process.
And while it may not be the most exact science, Pierce bringing up his playoff success against the Raptors does buy into a long-standing belief he's had about the franchise as a whole.
In 2014, Pierce and the Brooklyn Nets beat Toronto in a seven-game thriller, the first playoff appearance during the Lowry-DeRozan era of success. The year after, Pierce found himself on the Washington Wizards and before their first-round playoff series with Toronto he triggered Raptors fans by saying the team doesn't have the "it" factor to succeed in the playoffs.
Washington went on to sweep Toronto in a series that included a signature Pierce moment that saw him drill a dagger three in Game 3 to all but bury the Raptors' hopes.
That was three years ago, however, and this is a very different Raptors team. One that is the only squad in the league that ranks in the top four of both offensive and defensive efficiency and a team that has almost completely erased isolation ball from its repertoire – something thought impossible just a season ago.
Toronto Raptors on Sportsnet NOW
Live stream 41 Toronto Raptors games, over 100 other marquee NBA matchups, plus select playoffs and NBA Finals games.
LEARN MORE
And despite his nickname, Pierce won't let trivial things such as facts and the truth get in the way of his own hard-line belief.
"There's just something about playoff basketball that's just totally different," he said. "There's no pressure in the regular season. Every possession counts while in the playoffs. When you're getting booed or when you're getting …read more
Source:: Sportsnet.ca
(Visited 4 times, 1 visits today)