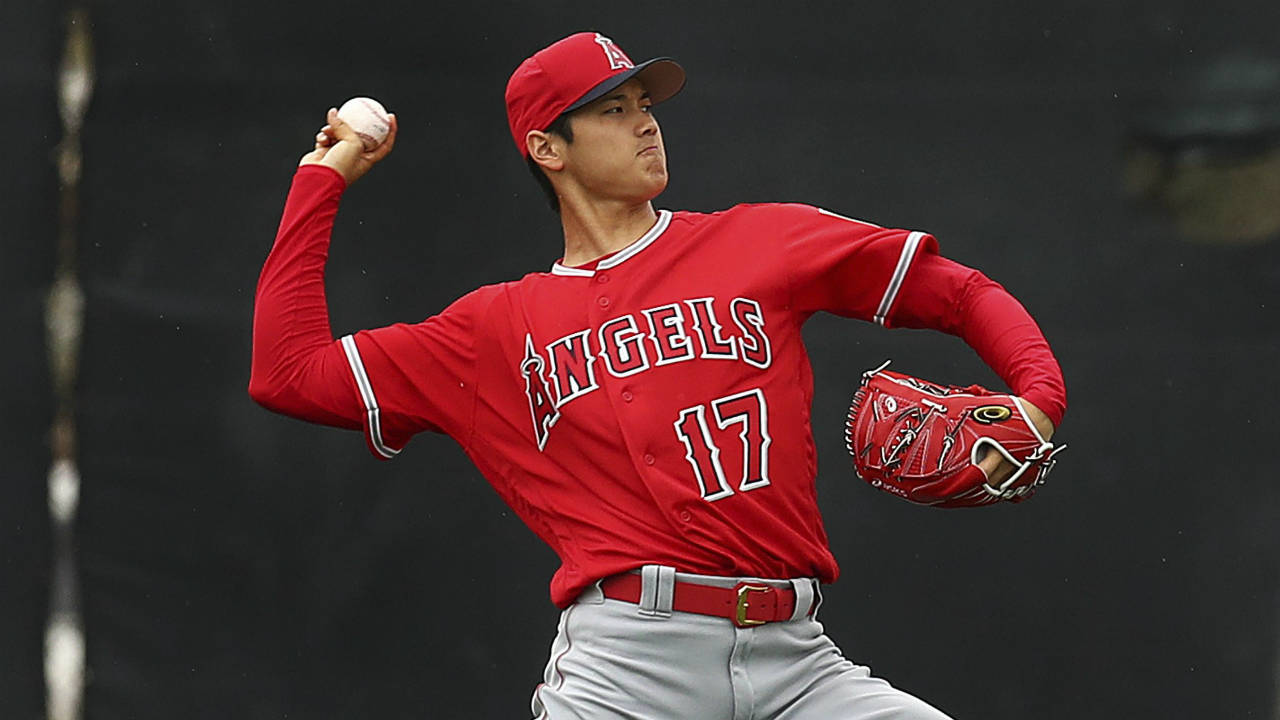 TEMPE, Ariz. — Shohei Ohtani emerged from the clubhouse and tipped his cap to the swarm of Japanese countrymen capturing his every move, cameras clicking a mile a minute.
He offered that signature smile, something Angels manager Mike Scioscia noticed right away and appreciates as much as his new two-way star's tremendous, "extraordinary" baseball talent.
As a small group of Japanese fans cheered and waved their flag, Ohtani walked to a back field at Tempe Diablo Stadium and got to work with the rest of the pitchers and catchers on a dreary Day 1 of spring training Wednesday. His supporters all-out sprinted up the bleachers and around left field to get there for another glimpse.
It quickly became far less glamorous for the down-to-earth Japanese phenomenon. As in, pretending to throw a ball before sprinting to first base for a pitcher fielding practice drill — in the rain.
Ohtani's first bullpen session was scheduled for Thursday and Scioscia said it would be this weekend or early next week before the lanky right-hander faces live hitters.
"There's going to be a lot of resources we have to get him ready," Scioscia said.
No, Scioscia doesn't know yet where Ohtani will hit in the lineup on the days he bats. No, he won't be playing the outfield. No, he won't be sliding head-first ("obviously," Scioscia noted).
Yes, Scioscia has seen him run. Yes, it's quite impressive. Yes, he can absolutely steal bases if he has the chance.
"He's a special athlete," Scioscia said, noting there is a plan for when Ohtani will take pregame batting practice for Cactus League play. "He's had great success playing in Japan, running the bases and doing things that a position player needs to do to try to get himself in position to score a run. He has great stride, he's got tremendous speed. He can steal a base. There's a lot of things he can do. I want him to play baseball. So, if he's out there, he's going to play baseball."
Owner Arte Moreno and general manager Billy Eppler were on hand for the occasion. For a change, two-time AL MVP Mike Trout isn't the biggest thing at Angels camp.
In a No. 17 red jersey, Ohtani sat at his locker in the clubhouse as old classics like Tears for Fears' "Shout" and "In The Air Tonight" by Phil Collins blared from the speaker right next to him.
"I'm excited. I mean how can you not be?" fellow pitcher Garrett Richards said. "I'm excited to see him on the field. I hope he hits 30 homers and punches out 180 guys this year. He seems like a great guy so far but I'm looking forward to getting to know him a little bit more. We haven't seen anything like it. Pretty amazing."
Source:: Sportsnet.ca
(Visited 22 times, 1 visits today)