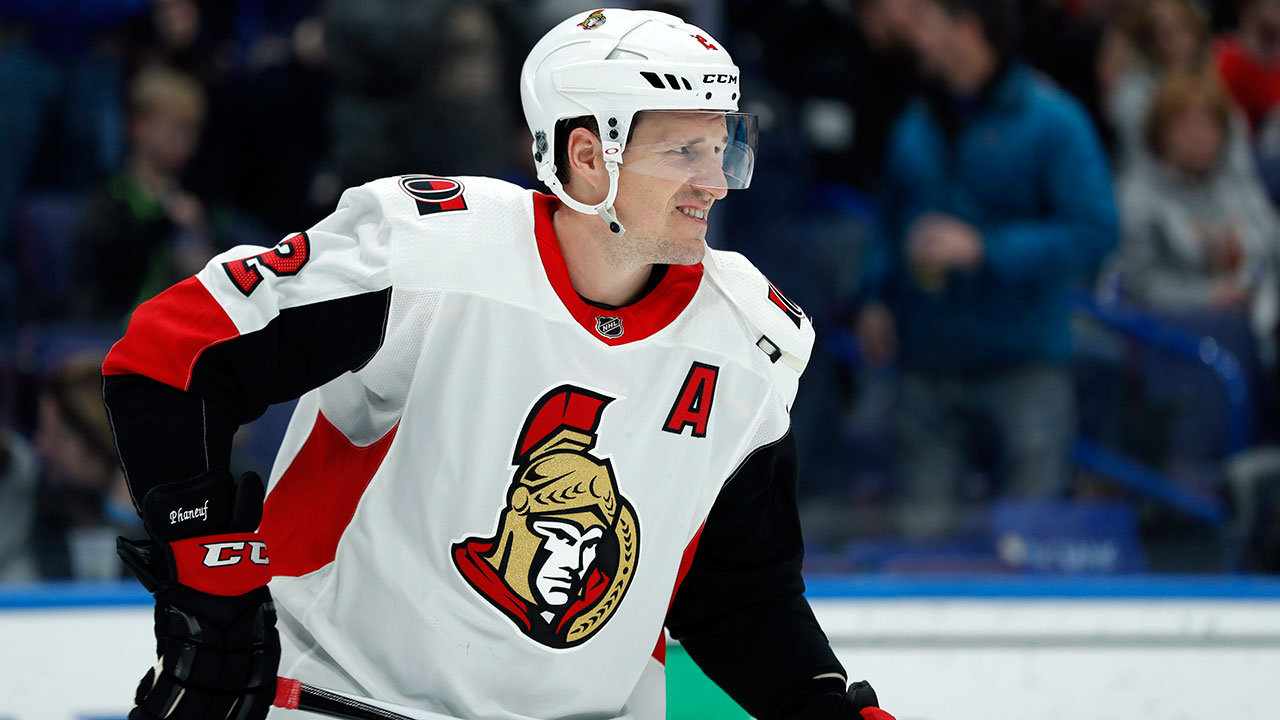 Dion Phaneuf has been here before.
The defenceman was traded for the third time in his NHL career Tuesday as he, along with Nate Thompson, was sent from the Ottawa Senators to the Los Angeles Kings for Marian Gaborik and Nick Shore.
Phaneuf had logged 10:50 of ice-time against the Pittsburgh Penguins but was sent to the locker room midway through the second period of a 6-3 Sens loss as the two teams and the NHL were finalizing the trade.
The 32-year-old spoke to reporters at PPG Paints Arena in Pittsburgh following the game and reflected on his two-plus seasons with the Sens.
"I want to thank the Ottawa Senators organization for my time with them. That's first and foremost," the veteran blueliner said. "I've got nothing but nice things to say about he city of Ottawa, about the organization and about my time here."
if ( "1" == true && 'undefined' !== typeof window.getIndexAds ) {
var so = {preroll:{1:{1:{siteID:191888},2:{siteID:191889}}}};
adServerUrl = window.getIndexAds( 'http://pubads.g.doubleclick.net/gampad/ads?sz=640×360&iu=%2F7326%2Fen.sportsnet.web%2FVideo&ciu_szs=300×250&impl=s&gdfp_req=1&env=vp&output=vast&unviewed_position_start=1&ad_rule=1&vid=5733389503001&cmsid=384', so, permalink);
} else {
adServerUrl = "http://pubads.g.doubleclick.net/gampad/ads?sz=640×360&iu=%2F7326%2Fen.sportsnet.web%2FVideo&ciu_szs=300×250&impl=s&gdfp_req=1&env=vp&output=vast&unviewed_position_start=1&ad_rule=1&vid=5733389503001&cmsid=384";
}
$el.after( unescape("%3Cscript src="" + (document.location.protocol == "https:" ? "https://sb" : "http://b") + ".scorecardresearch.com/beacon.js" %3E%3C/script%3E") );
$( document ).one( 'ready', function() {
$( "#video_container-345345" ).SNPlayer( {
bc_account_id: "1704050871",
bc_player_id: "rkedLxwfab",
//autoplay: false,
//is_has_autoplay_switch: false,
bc_videos: 5733389503001,
is_has_continuous_play: "false",
adserverurl: adServerUrl,
section: "",
thumbnail: "http://assets1.sportsnet.ca/wp-content/uploads/2018/02/1704050871_5733402653001_5733389503001-vs-1024×576.jpg",
direct_url: "http://www.sportsnet.ca/hockey/nhl/phaneuf-trade-gives-senators-much-needed-cap-space/"
});
});
Phaneuf was selected ninth overall by the Calgary Flames in 2003 and spent …read more
Source:: Sportsnet.ca
(Visited 4 times, 1 visits today)