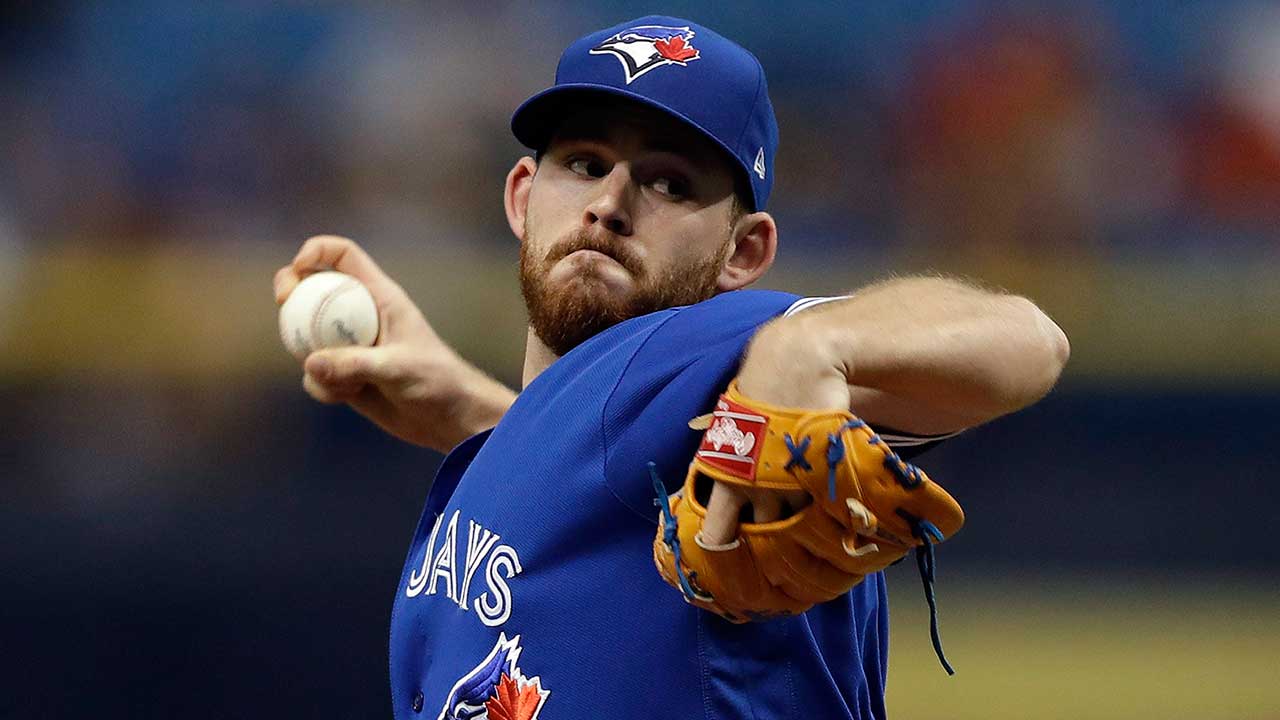 DUNEDIN, Fla. – Radar guns aren't necessary on the first day of spring training. They aren't even wanted, really — not when pitchers and catchers are still reintroducing themselves after a winter apart.
This time of year it's all about the eye test, and by that measure Russell Martin liked what he saw from Aaron Sanchez Wednesday morning as pitchers and catchers completed their first official workout of the spring.
"That's, like, backdoor," Martin remarked to Sanchez after catching a particularly sharp curve. "Nasty, dude. That's perfect."
Blister and finger issues led to four stints on the disabled list for Sanchez a year ago. As a result, the Blue Jays won't know what to expect from the 25-year-old until he tests his finger repeatedly in games. But for Day 1 of spring training, he's where he should be.
"It's coming out free and easy. A lot of life to it, good movement," Martin said afterwards. "All of his pitches, they look the same coming out (of the hand). That's the key as a pitcher — the art of deception. Everything has to look the same."
Continued progress from Sanchez would go a long way toward making this spring a success for the Blue Jays. So would progress from Devon Travis, whose workload could be lightened this spring as he recovers from knee surgery, and Troy Tulowitzki, who's expected to arrive at full strength despite having had a bone spur removed from his heel.
Alongside those health-related questions, the Blue Jays will spend considerable energy setting up their pitching staff this spring. There's cautious optimism around Sanchez, and once again Joe Biagini's status is in flux.
For now, Biagini's penciled in as the fifth starter behind Sanchez, Marcus Stroman, J.A. Happ and Marco Estrada. That could change if the Blue Jays obtain a more established starter, and GM Ross Atkins has spoken repeatedly about his interest in adding to the rotation. With veteran free agents such as Jaime Garcia, Jason Vargas and Andrew Cashner available, the front office could pursue any number of options.
"That's what they're trying to do right now," manager John Gibbons said.
If the Blue Jays do add a starter, Biagini's role becomes less clear. He has options remaining, so the front office could argue in favour of optioning him to Buffalo and developing him as a depth starter. Injuries occur over the course of the season, and Biagini would provide a much-needed layer of insurance against that likelihood.
That's not the way Gibbons seems to see it, though. Biagini's best year came in 2016 when he posted a 3.06 ERA in 60 games, all of them out of the bullpen. That's a tough skillset to pass up on, especially when you have three or four open bullpen spots.
"If he's not our starter, I think he's very valuable to us coming out of the 'pen," Gibbons said. "(Dominic) Leone's not here. That's a hole to fill and he's shown us he can do that."
Realistically, it's far …read more
Source:: Sportsnet.ca
(Visited 4 times, 1 visits today)