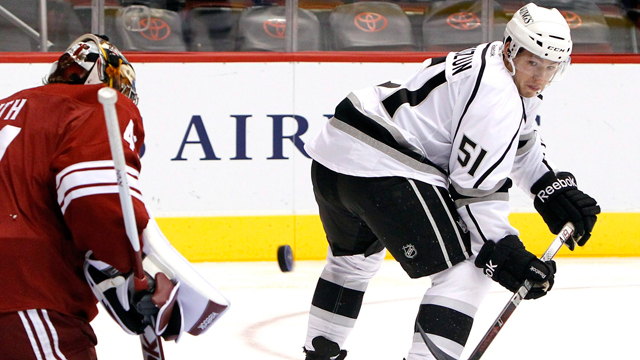 Calgary's Pathway to the Podium Series highlights 10 local Canadian athletes on their backstories and hopes in Pyeongchang. Brandon Kozun is one of them.
Brandon Kozun was expected by many to make Team Canada's men's hockey team in Pyeongchang.
That is, until he wasn't. Just ask head coach Willie Desjardins.
"He was a top-five player the last two years in the KHL, a leading guy, we thought for sure he'd be on the team," Desjardins said at the team's roster announcement last month.
"He's supposed to be a scorer and he's not scoring and that's not good for a scorer."
Kozun had zero points in November's Karjala Cup, just one assist in December's Channel One Cup and didn't play in the Spengler Cup. It wasn't exactly what Hockey Canada was expecting from the three-time KHL all-star, who also had two assists in two games in the Sochi Hockey Open last August.
Speaking from Moscow during Channel One, Kozun didn't have any pre-conceived notions of his fate.
"When we heard that the NHL players weren't going to go, obviously, it pops into your mind, okay, this is a real possibility," he said. "But I still have to make the team."
"I'm just trying to show my best and do my best for whatever I can do to help myself help this team and hopefully to be able to have a chance to be able to skate on that ice."
That ice was of course in Pyeongchang, where NHL players won't be. Many of the games best have voiced their displeasure, with Alexander Ovechkin going as far as threatening to defy the NHL and go anyway when the news came out in April. Where many stars voiced opposition, others like Kozun saw opportunity.
Kozun has 10 goals, 19 assists and a plus-one rating in 43 games for L.A.'s American Hockey League affiliate, the Manchester Monarchs, this season. (Ross D. Franklin/AP)
"I never thought I would be able to kind of be part of something like this," he said.
And that chance was slipping. As Desjardins said, the diminutive Kozun has always been a scorer. From the Midnapore Hockey Association in Calgary, to winning the CHL scoring title in 2010 with the Hitmen (en route to a WHL title) and finally to the KHL, the undersized forward simply knows how to get points. Yet he wasn't during perhaps the most important tryouts of his life.
"And what does he do? He finds another way to make the team," Desjardins said. "He worked so hard, we had to name him just because of how hard he worked."
"He had to find a way to make it. He hit guys, Kozie's about 5'5", he hit everybody."
Kozun is also no stranger to Desjardins. They were together on the 2010 World Junior Championship team, which lost a heartbreaking 6-5 gold-medal game to the U.S. that snapped Canada's streak of five straight titles. Kozun had three shots on goal, including a streaking wrist shot early in the third that went off the crossbar. He was even offered a spot on the …read more
Source:: Sportsnet.ca
(Visited 6 times, 1 visits today)