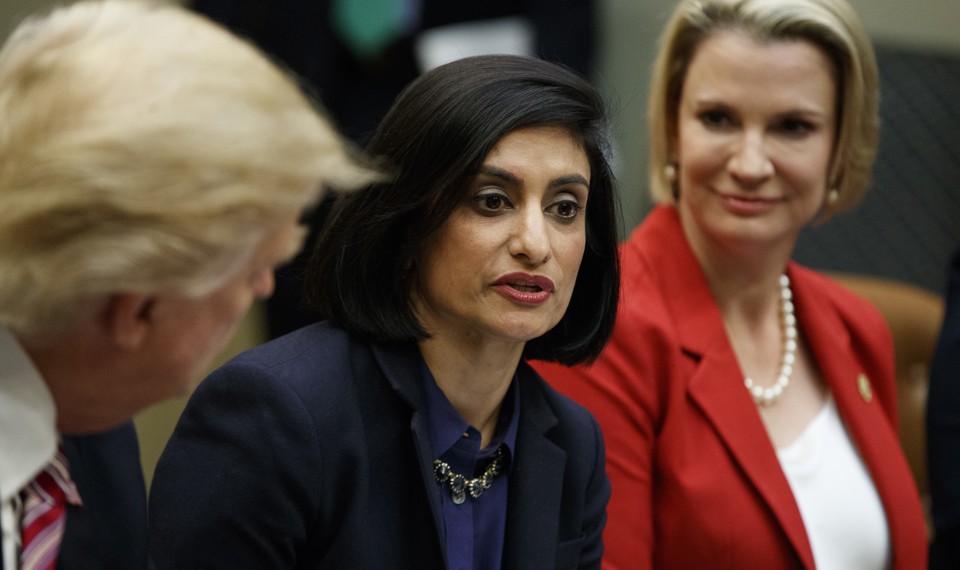 The Trump administration has been signaling for months that it plans to implement conservative reforms to core federal welfare programs, including by allowing states to have work requirements for Medicaid. So it was no surprise on Thursday when the Centers for Medicare and Medicaid Services issued guidance for "state efforts to test incentives that make participation in work or other community engagement a requirement for continued Medicaid eligibility."
In a series of tweets announcing the policy shift, CMS Administrator Seema Verma explained the agency's rationale that requiring eligible able-bodied adults to have jobs to qualify for Medicaid will make them healthier and less reliant on welfare in the future. "Our fundamental goal is to make a lasting and positive difference in the health and wellness of Medicaid beneficiaries," she tweeted. She also cited a 2014 meta-analysis that concluded that "employment is beneficial for health, particularly for depression and general mental health."
There's one gaping hole in that reasoning, however: If the federal government really wants to harness the benefits of employment to improve beneficiaries' health and wealth, wouldn't providing them with jobs be a simpler and more effective answer?
***
So far, it's unclear how widely adopted work requirements will be and how exactly states will implement them under CMS's new guidance. On Friday, Kentucky was the first state to have its 1115 waiver creating work requirements approved by CMS. On Thursday, Verma noted that nine other states had already submitted waivers asking the federal government to approve incentives or requirements for some Medicaid beneficiaries. In addition to allowing strict job mandates, CMS will also allow requirements for "other community-engagement activities," including volunteering, job training, and caregiving. (These rules only apply to specific adults; CMS carves out people with disabilities, the elderly, children, and pregnant women.)
1115 waiver applications from Kentucky, Maine, and Wisconsin provide examples of what constraints on welfare programs might look like at their strictest. Kentucky's—which Verma helped create when she was a health-care consultant—applies to all able-bodied non-elderly adults, and requires them to complete 80 hours per month of work, jobs training, education, or community service. It also requires recipients to pay an income-adjusted premium or risk losing coverage for up to six months. Wisconsin wants to require all adults without dependent children who live in poverty to work or complete community-engagement activities in order to qualify for Medicaid. Maine would require even some parents in poverty to work for their benefits.
Yet if states want work requirements to increase the health and self-sufficiency of Medicaid beneficiaries—their stated goal—most available data suggest they'll fall short. As the Kaiser Family Foundation reported in 2017, most people on Medicaid who can work do work. Around 60 percent of adult enrollees have a job, and for the most part those who don't report impediments in their ability to work. Even those who are not officially disabled often attest to having debilitating conditions—like severe back problems—that make full-time jobs difficult or impossible. Others may be in school, work …read more
Source:: The Atlantic – Best of
(Visited 2 times, 1 visits today)