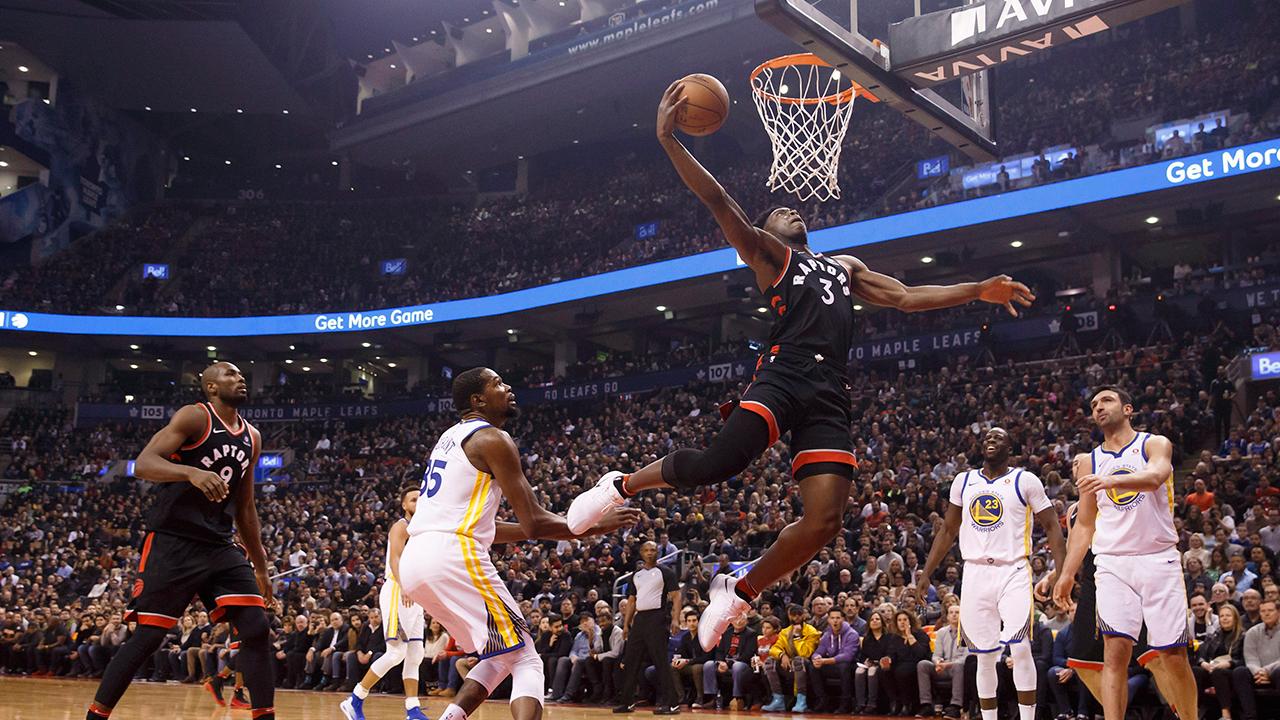 When Warriors head coach Steve Kerr was holding forth before his team's only visit to Air Canada Centre, he was reminded that this was a meeting of the NBA's two best teams – statistically at least.
The Warriors and Raptors are the only teams in the NBA ranked in the top five both offensively and defensively, plus they stand first and second, respectively, in net rating. Sure, the Warriors have won two titles in the past three years and are in the midst of the most dominant three years of regular-season play the league has ever seen, but how about them Raptors, Steve?
"It's fun to play a team in the other conference that you know has a chance to be there in the end. We're only going to see them twice, just like we see Cleveland and Boston so when you do get a chance to see these guys these guys you file it away for later, in case," Kerr said.
"So it'll be fun."
It just might be.
What followed was a rollicking 48-minute reminder that the Warriors are the Warriors – fast-tracking to one of the greatest teams the NBA has ever known – and the Raptors?
They're not bad either as they scraped and clawed to a 127-125 loss that dropped them to 15-3 at home. But like Kerr predicted, it was fun getting there.
After surviving a full dose of the Warriors' experience in the first half when it looked Golden State was going to – in fact they pretty much did – put the Raptors away before the game was half over, the Raptors did their endearing never, ever quit thing and had carved a 27-point third-quarter Warriors lead to a measly three points by the time Fred Van Vleet hit a transition triple with 3:45 left, part of a 18-3 fourth quarter-run.
But then Steph Curry hit a three, Klay Thompson hit a three and that was too much for the Raptors, even as DeRozan was hitting 42-points worth of ones and twos in another Herculean effort. There were no threes in his 17-of-31 line.
That was it, right? You can't trade threes for twos with the Dubs.
Wrong again. By the time Steph Curry (24 points on 12 shots), the career 90-per-cent-plus free-throw shooter missed a pair with 44.9 seconds left after a dubious foul call on what looked like a clean Jakob Poeltl block, the Raptors had the ball down one.
But DeRozan couldn't coax one more mid-range jumper over Klay Thompson and Kevin Durant was able to respond with one of his own over Pascal Siakam.
With one more possession, the Raptors needed a three and here they ran into the Warriors at their best, effortlessly switching every pick-and-roll, every player on the court comfortable guarding anyone the Raptors had on it. It was the kind of defence the Warrior have perfected to defend the three-point line – the NBA's defining offensive feature at the moment.
The best Toronto could get was a rushed contested three …read more
Source:: Sportsnet.ca – Sports news
(Visited 4 times, 1 visits today)