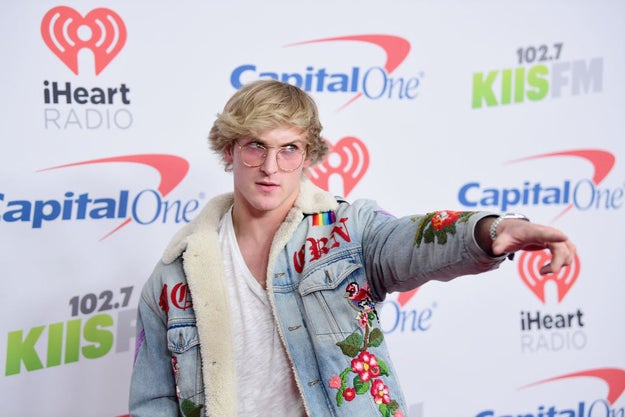 Logan Paul at 102.7 KIIS FM's Jingle Ball 2017 on Dec. 1, 2017.
Emma Mcintyre / Getty Images
Logan Paul's fall from grace at YouTube after posting a much maligned video that included a dead man's body hanging from a tree in Japan was, according to many people in the vlogging industry, inevitable given the unrelenting pressure to go viral in the name of money.
In interviews with popular YouTubers and people who work in the industry that has grown to support them, many said Paul's ambitious goal of posting, in his words, "a 15-minute TV show EVERY SINGLE DAY for the past 460+ days" just wasn't sustainable. And for now at least, the resulting mistake appears to have cost Paul a big chunk of income and possibly derailed his acting ambitions.
Logan Paul attends the sneak peek of the go90 Social Entertainment Platform in 2015.
John Sciulli
YouTube, which is owned by Google, said in a statement on Wednesday that in response to the Japanese "suicide forest" controversy, Paul's channels were being removed from Google Preferred, a program that allows companies to sell ads on the videos of the top 5% of the platform's most popular content creators. YouTube will also not feature Paul in the fourth season of the web series Foursome, and his new original series for the paid streaming platform YouTube Red "are on hold."
Byron Austen Ashley, president of Settebello Entertainment, a talent and literary management company focused on building careers for emerging talent, said the highly competitive business model of YouTube can push content creators to attempt dangerous and misguided stunts.
"There is pressure to push the envelope, to be the class clown, and that keeps escalating and escalating," he said.
Paul has abstained from posting on YouTube since Jan. 2, when he posted his "So Sorry" video. He later tweeted: "taking time to reflect. no vlog for now. see you soon."
youtube.com
His representatives did not respond to requests for comment.
Paul's video came as the culmination of what he called an impromptu trip to Japan over the holidays that was spurred by a travel itch, a break in his schedule, and a desire to get out of Los Angeles for New Year's.
But the trip appeared to be off-kilter from the very start. A wild coyote ran down his Encino street as he was being chauffeured to the airport, leaving him concerned about his small Pomeranian dog, Kong. When he arrived at Los Angeles International Airport for the flight to Tokyo, he realized he had left his passport at home, had an assistant rush it to the airport, and admitted to another passenger, "I have a lot of things on my mind."
When his flight arrived in Tokyo, Paul couldn't find his luggage and was told that someone else had taken his bag before it was eventually located. Paul was also losing his voice and had to see a doctor, who informed him he had …read more
Source:: BuzzFeed – US News
(Visited 2 times, 1 visits today)