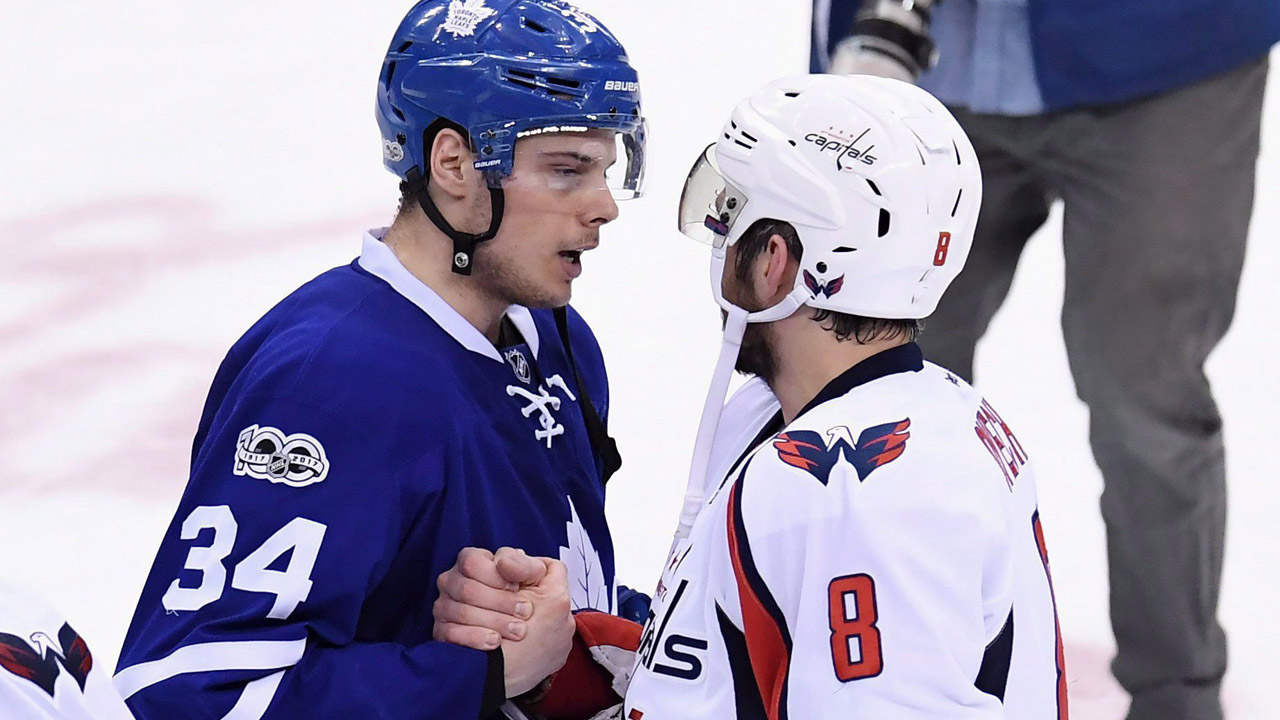 A quick mix of the things we gleaned from the week of hockey, serious and less so, and rolling four lines deep.
1. The season before the Toronto Maple Leafs won the draft lottery, the club's power play was as weak as green tea, the second-worst in the league (15.4 per cent).
Since Auston Matthews pulled on a blue-and-white sweater, assistant coach Jim Hiller — overseen, as all things Leafs, by head coach Mike Babcock — has operated the NHL's third-best power play (22.8 per cent). Pretty nice jump.
Even nicer when you consider the only two teams ahead of Toronto in this category when you combine the 2016-17 and 2017-18 seasons: 2017 Stanley Cup champion Pittsburgh and 2018 Stanley Cup favourite Tampa Bay.
Guess which forward has averaged the most power-play time for the Leafs in the last season and a half. Matthews, at 2:24 per night.
Matthews' use on the man-advantage pales only when compared league-wide to his fellow all-world snipers like Alex Ovechkin (4:08 this season), Phil Kessel (4:05), Nikita Kucherov (3:52) and Vladimir Tarasenko (3:54). Yet criticism of the future captain's PP minutes percolated on Toronto's airwaves this week.
Not that Babcock should be beyond reproach (cough, Polak, cough), but Matthews' power-play time is a minor if not silly quibble to take with Toronto's effective special teams (the Leafs' 83.8 per cent penalty kill ranks No. 1 in the East). Even if the club's sole All-Star Game representative might secretly desire the chance to rack up more points with a looming contract negotiation.
Saying Auston Matthews has the puck on a string gives way too many props to string. https://t.co/5rroGxmiTu
— luke fox (@lukefoxjukebox) January 11, 2018
Why we're not stressing this issue:
(i.) Matthews' 2017-18 power-play production (two goals, four assists) is fine but unspectacular. He's tied for second among Leafs forwards in PP ice time but ranks seventh on the team in PP points.
(ii.) The first forward unit of James van Riemsdyk (who, at 2:21, only averages three more seconds on the man-advantage than AM34), Tyler Bozak, Nazem Kadri and Mitch Marner has simply yielded better results. JVR alone is 7-5-12 on the power play.
(iii.) Matthews is easily the Leafs' best five-on-five player, and they rightly save his breath so he can make an impact there. At 18:36 per game, Matthews handily tops among all Toronto forwards (51 seconds more than linemate and PK man Zach Hyman, who ranks second).
(iv.) Whose PP time do you subtract? Not JVR's. Nylander could make his own case for more ice. Kadri and Bozak have endured prolonged slumps, and you need to give them opportunities to catch fire. Marner and Connor Brown are top-six wings playing bottom-six roles; take away some of their PP time, and how do they feel? There's a whole team to worry about here, folks.
(v.) Eighty-two games plus is a long haul. What good is forward depth if you don't use it? Edmonton is throwing Connor McDavid over the boards every other …read more
Source:: Sportsnet.ca – Sports news
(Visited 5 times, 1 visits today)