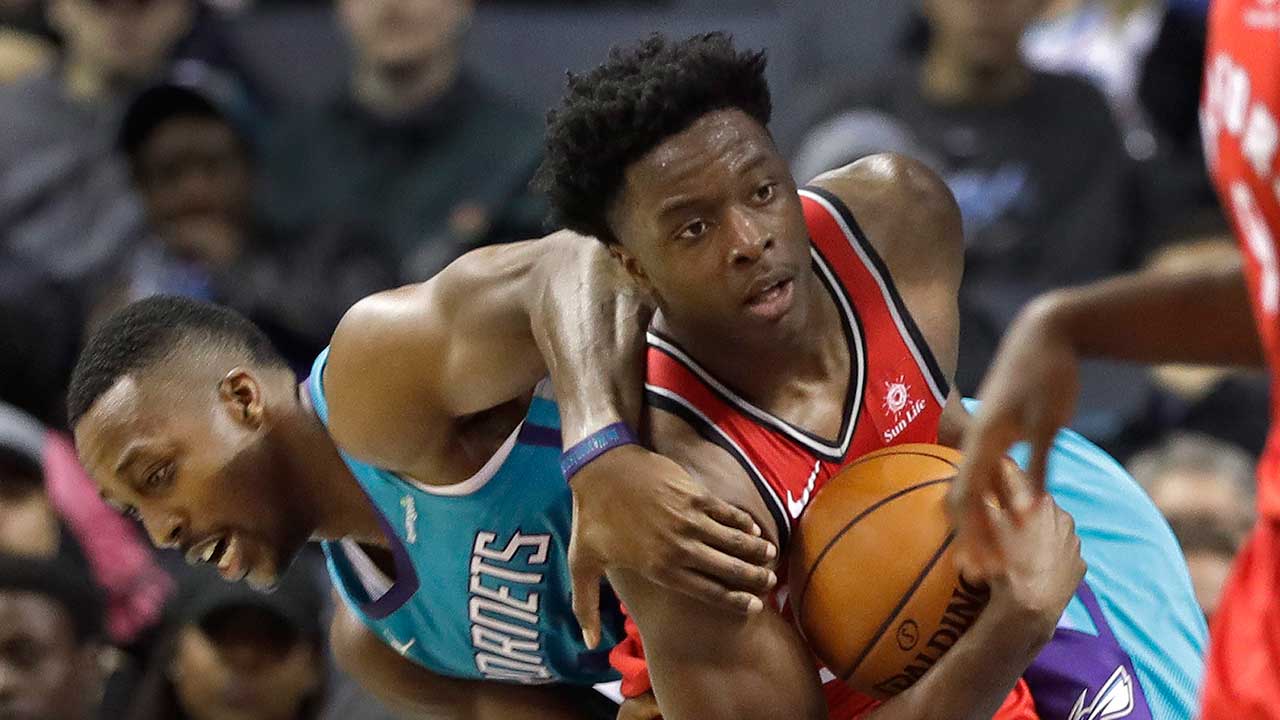 With the NBA's February 8th trade deadline less than a month away, the rumour mills are churning and teams are engaging in trade talks.
As the deadline nears, the Toronto Raptors have been on the receiving end of plenty of calls from general managers around the league.
When asked if opposing teams have been reaching out to the Raps and inquiring about the availability of a handful Toronto's young players, team president Masai Ujiri didn't hesitate: "Yes they are," he said during an appearance on Prime Time Sports on Wednesday night.
"Just before I left the office [Raptors' General Manager] Bobby [Webster] called saying a couple of teams called," Ujiri said. "It's constant."
Of course that should hardly come as a surprise given both the quantity and quality of the Raps players 25 years of age or younger, virtually all of whom have carved out meaningful roles— particularly on the second unit— for a team just three games back from first place in their conference.
Delon Wright, Jakob Poeltl, Pascal Siakam, OG Anunoby, Norman Powell and Fred VanVleet are all contributing while averaging at least 17 minutes per game— and all but Powell are still on inexpensive rookie deals— so it's no wonder that they'd be targeted by other teams.
"We continue to interact with a lot of teams," Ujiri noted, but don't expect to see any of those players changing teams come February.
[radioclip id=3823383]
Generally when young developing talent emerges on a winning team with sights on a run to the NBA Finals, it provides an opportunity for that team to flip their youth for established vets with post-season experience. There are countless examples, some for the better (Boston dealing Al Jefferson for Kevin Garnett), and others for worse (OKC trading James Harden to the Rockets). But the Raptors are in a unique position in which their emerging talent are proving to be integral to their success, providing depth and tireless energy along with a potential bridge to the future.
With that in mind, expect a quiet deadline from the Raptors.
The team made noise at last year's deadline, acquiring P.J. Tucker from the Phoenix Suns, a clear rental player acquired to help them during their 2017 playoff run that saw the team advance past the Milwaukee Bucks before being swept by the Cleveland Cavaliers, who are in Toronto on Thursday to face the Raptors for the first time this season.
Of course, their biggest move was trading Terrence Ross to the Orlando Magic in exchange for Serge Ibaka. While Ibaka was also perceived as a potential rental player when the trade was made, as Ujiri noted, the deal opened the door for the Raps to re-sign him without being penalized for going over the salary cap. "What it did for us was give us the Bird rights to Serge Ibaka …read more
Source:: Sportsnet.ca – Sports news
(Visited 4 times, 1 visits today)