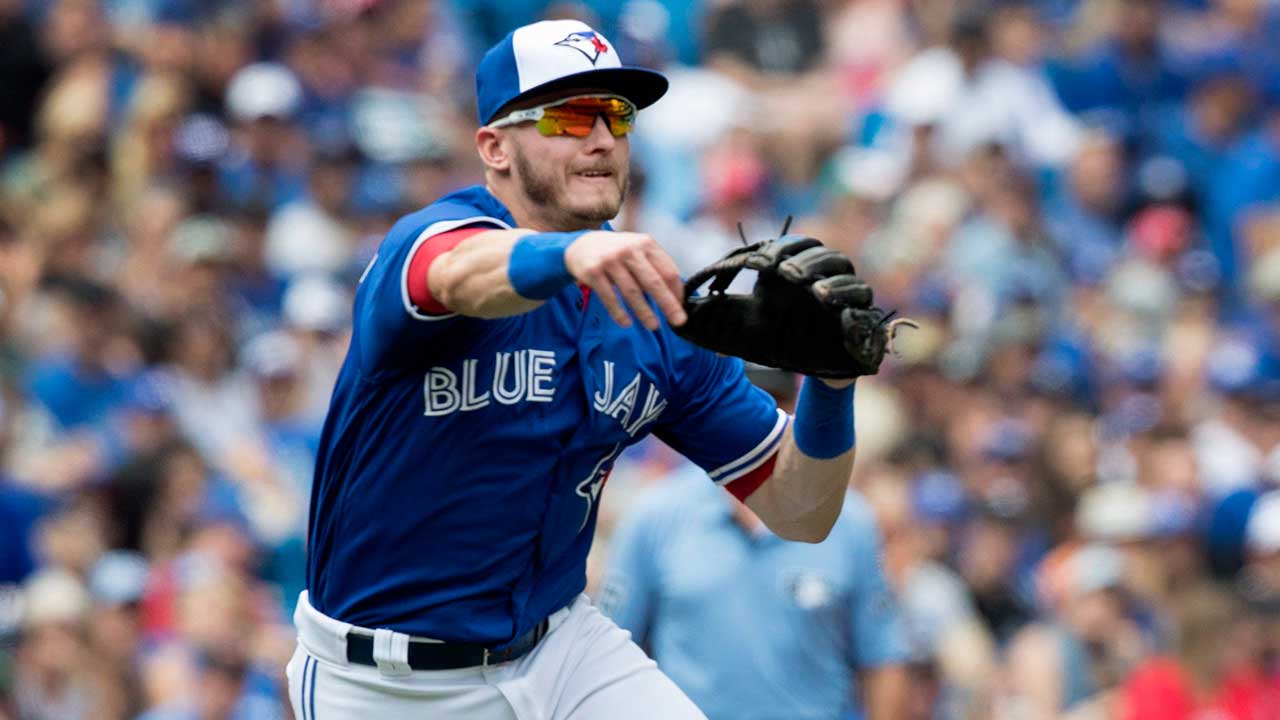 Josh Donaldson leads a large and expensive class of arbitration-eligible Toronto Blue Jays that could cost the club upwards of $45 million in 2018 salaries. As Donaldson enters his fourth and final season of arbitration eligibility he can expect a salary north of $20 million that will make him the Blue Jays' highest-paid player.
Teams and players have until Friday to exchange figures, which makes this week a busy one during an otherwise quiet off-season.
Conversations with industry sources provide a closer look at the Blue Jays' arbitration-eligible players…
Josh Donaldson
2017 salary: $17 million
Under team control through: 2018
MLB Trade Rumors 2018 salary projection: $20.7 million
After yet another productive season, Donaldson's poised to break Bryce Harper's record arbitration salary of $21.625 million. MLBTR projects a $20.7 million salary, but that looks low according to those who know the arbitration process well.
Harper's deal represented an $8-million raise, and while nobody's predicting that kind of increase for Donaldson after a season in which he was limited to 113 games, a $6-million jump "does not seem outrageous at all" in one observer's view. Others agreed that Donaldson should end up above Harper on his way to a new record.
When the sides exchanged numbers two winters ago they were only $450,000 apart before eventually agreeing on a deal covering the 2016-17 seasons. This time around Donaldson's just a year away from free agency, so this could be a logical time for the club to gauge his asking price on a long-term extension.
Marcus Stroman
2017 salary: $3.4 million
Under team control through: 2020
MLB Trade Rumors 2018 salary projection: $7.2 million
Stroman combined quality and quantity in 2017 when he posted a 3.09 ERA in 201 innings. That performance will earn him a substantial raise, with Gerrit Cole, Jacob deGrom, Kevin Gausman and Trevor Bauer among the many second-time eligible starting pitchers who appear to be relevant reference points.
Roberto Osuna
2017 salary: $552,000
Under team control through: 2020
MLB Trade Rumors 2018 salary projection: $5.6 million
Osuna's gaudy saves totals will lead to a massive raise in 2018. Among current first-time eligible relievers, Rays closer Alex Colome will be the best comparable for Osuna, and if we look back two years an equally compelling comp emerges: Trevor Rosenthal, who earned a $5.6 million salary following the 2015 season.
At the time, Rosenthal had a 2.66 ERA with 96 career saves in 237 career innings. He was coming off an all-star season, and had a stellar post-season record: a 0.69 ERA in 26 innings.
Two years later, Osuna has a 2.86 ERA with 95 career saves in 207.2 career innings. He's coming off an all-star season, and has a stellar post-season record: a 1.04 ERA in 17.1 innings.
The Blue Jays could point out that, despite his all-star nod, Osuna led MLB with 10 blown saves last year, but his case for Rosenthal-type money remains strong.
Kevin Pillar
2017 salary: $555,000
Under team control through: 2020
MLB Trade Rumors 2018 salary projection: $4.0 million
Pillar will earn a substantial raise, but the MLBTR …read more
Source:: Sportsnet.ca – Sports news
(Visited 4 times, 1 visits today)