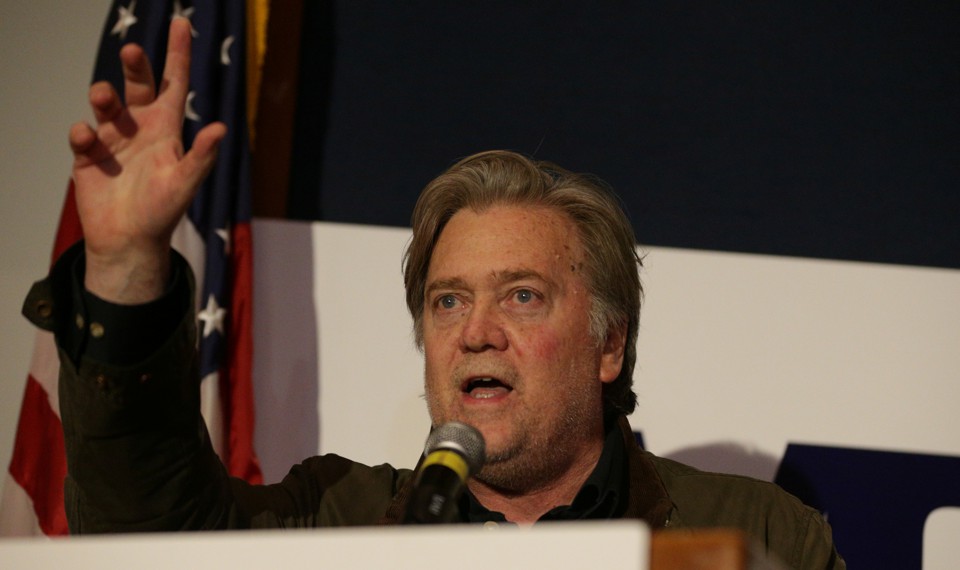 Back in September, Roy Moore's GOP senatorial primary win over Luther Strange seemed like a good early sign for Steve Bannon's "season of war" against the Republican establishment. Bannon and his website Breitbart News had gone all-in on the Alabama race, flooding the zone with pro-Moore coverage, and Bannon had campaigned for him in person. And Moore came out victorious even though President Trump endorsed his opponent.
Since then, things have gone very much awry. Five women have said Moore pursued them when they were teenagers and he was in his 30s; two of them, including one woman who said she was just 14 at the time, have said Moore sexually abused them; ; the National Republican Senatorial Committee has cut Moore off and its leader called for him to be expelled from the Senate even if he wins; nearly every Republican senator who endorsed Moore has withdrawn their endorsement; recent polls have shown him neck-and-neck with the Democratic candidate, Doug Jones; and on Tuesday night, the Republican National Committee pulled their support from him.
The cascade of revelations have forced Breitbart to double down when nearly everyone else is abandoning Moore, and are testing the kingmaker image Bannon has been trying to build for the 2018 midterms.
Bannon has remained publicly defiant, casting the allegations as a coordinated smear of Moore and sending two reporters to Alabama. But a Bannon ally confirmed to me that behind the scenes, Bannon has been sounding people out about how to handle the Moore situation. The Daily Beast reported on Tuesday that Bannon had told his inner circle he would "put [Moore] in a grave myself" if it turned out Moore had been lying to him about the accusations—Moore insists they are false—and had been "taking the temperature" of allies to see how they thought he should proceed. And internally, some in Bannon/Breitbart world have expressed concern at the unrelenting nature of the scandal and indicated they're more worried than they appear to be publicly, according to a source with knowledge of these conversations.
A source close to Bannon pushed back on the Daily Beast report and said Bannon still "stands by Judge Moore 1000 percent" and plans to send more reporters to Alabama, adding that there's "zero chance" Bannon and Breitbart will back down. Bannon is, this person said, scheduled to appear at a rally organized by Moore's friend and adviser Dean Young on December 5. Bannon is in Japan this week giving a speech.
"There's healthy debate about the whole thing, that's the way Breitbart is on anything," the source said, referring to internal conversations about the Moore story. "There's not strong disagreement in any sense of the word."
Bannon has compared the Moore allegations to the "Access Hollywood" tape that leaked a month before the presidential election, which showed Trump bragging to TV host Billy Bush about groping women and kissing them against their will. The tape caused a similar political firestorm, with many top Republicans pulling …read more
Source:: The Atlantic – Best of
(Visited 1 times, 1 visits today)